The warped and wonderful world of ceramicist Ron Nagle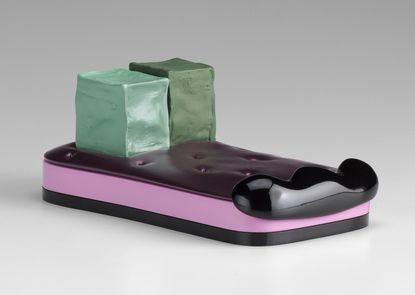 (Image credit: © The artist, Courtesy of Matthew Marks Gallery)
'White devil formalist' or 'precious asshole'? Ron Nagle, the only pioneer of California clay movement who's still standing, says he is a bit of both. That self-defined duality is central to Nagle's practice; he is both banal and sublime, sincere and hilarious, political and personal, small-scale and thinking big.

He's definitely never been anodyne: his sculptures, that range from palm-size to 11 inches, have been inspired by anything from tombstones in Hawaii to the paintwork of hot-rod cars, stucco architecture in his hometown San Francisco, to Momoyama period ceramics and 1940s American restaurantware. He's also, for much of his career, not been sober – many of his works, the artist says, were 'created in altered states'.

Nagle's been clean for three decades now, and, having turned 80 this year, he's more into lobsters than living large. His adventures with ceramics began in the 1960s, when he worked as an apprentice to Peter Voulkos, who was on his way to forging a future for clay sculptures. He went on to teach for 30 years at Mills College in Oakland. Yet Nagle isn't as famous as fellow Californian, Ken Price – perhaps because he has been occupied with other things, including music. He wrote songs for Jefferson Airplane, among others, and his band, Mystery Trend, was deep into the San Francisco Sound movement.
RELATED STORY
Over the years, Nagle did have some breakthroughs in the art world – his works were purchased for the collections of the Met, SFMoMA and LACMA. In 2013, he participated in the Venice Biennale. Since retiring from teaching almost a decade ago, Nagle has been back in the studio every day. In a series of new sculptures on show at New York's Matthew Marks Gallery (coinciding with Frieze Week), it seems he's picked up right where he left off.

Far out fusions allude to West Coast psychedelic culture, surfing, bodily functions and expulsions, everyday objects and emotions — and of course, the movement of rock music. Mind-bending and eye-expanding, surprising shapes are Nagle's forte, as well as treacly textures and pastel palettes—colour schemes he spends hours pouring over. Nagle doesn't just make cool ceramics – he made ceramics cool.

His wonderfully warped creations came, by Nagle's own admission, as a result of being 'out of step', with everything else that was popular. He couldn't connect with anything that was happening in the mainstream in culture, and in his years teaching, he confesses, he learned to despise academia. His sculptures remain deliberately ambiguous, puns on form, reflected in the names he gives his works. The title of the show is 'Getting to No'. It seems that we're just getting to know how brilliant Nagle really is.
INFORMATION
'Getting to No' is on view from 2 May – 15 June. For more information, visit the Matthew Marks Gallery website (opens in new tab)
ADDRESS
Matthew Marks Gallery
522 W 22 Street
New York
VIEW GOOGLE MAPS (opens in new tab)
Charlotte Jansen is a journalist and the author of two books on photography, Girl on Girl (2017) and Photography Now (2021). She is commissioning editor at Elephant magazine and has written on contemporary art and culture for The Guardian, the Financial Times, ELLE, the British Journal of Photography, Frieze and Artsy. Jansen is also presenter of Dior Talks podcast series, The Female Gaze.