Daniel Arsham's eroded turntable pays homage to an iconic Rimowa case
Artist Daniel Arsham teams up with luggage label Rimowa for a sculptural ode to the brand's Pilot Case, available in limited editions from 7 October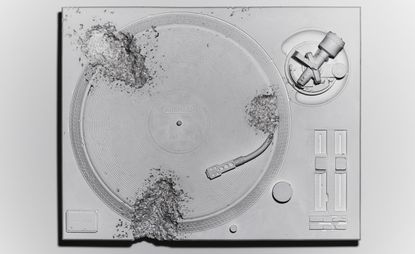 (Image credit: George Harvey)
Rimowa's Pilot Case, as its name suggests, was originally designed with airline staff in mind. Its compact form allows it to slide neatly into the space between pilot seats; it opens from above (rather than along the side), which facilitates access to its contents while in flight; and it's constructed from aviation-inspired aluminium, which is both resilient and thematically appropriate. It comes as no surprise that the case achieved a cult following among its intended audience at launch in 1994. Less expected was its popularity among musicians and DJs, who favoured the design to protect vinyl and mixing equipment while on the road.
The latter usage serves as the inspiration for the limited-edition Rimowa x Daniel Arsham Eroded Turntable in Pilot Case, which launches on 7 October 2022. This is the second collaboration between the German luggage label and the American artist, following on from Arsham's interpretation of the Rimowa Classic Attaché in 2019. Back then, Arsham had presented a sculpture of the attaché, eroded to evoke the passage of time, within a contemporary edition of the same attaché; here, the special edition Pilot Case contains not a sculptural version of itself but rather a sculpture of a turntable.
Rimowa and Arsham started working on their Pilot Case during the pandemic, but as the artist explains, the roots of the project can be traced back to the mid-2000s, when he first encountered Rimowa luggage on a trip to Japan and developed a fondness for the brand. 'People there used a lot of Rimowa, and it seemed so technical and brilliant,' he recalls. Now a loyal Rimowa user, he admires both the brand's engineering prowess, and the lifetime guarantee it offers with each product. 'You can send dented and damaged luggage to Rimowa, who will hammer out the aluminium and change the wheels out, so it's back to perfect again. But the case keeps these marks on it, like a patina, a record of its history.'
The same sense of history is ever present in Arsham's work, particularly in his Fictional Archaeology series, which uses geological materials to create eroded casts of modern artefacts: clocks, cameras, keyboards, headphones, and indeed, turntables. The artist says, 'these casts are about time shift and dislocation. You're looking at an object that looks like an archaeological relic, but at the same time, it's an object that you know from your own experience. That sort of confusion is where the work lies.'
Within his new Rimowa collaboration, the turntable – which is hand-cast from white plaster, and incorporates crushed glass in its eroded areas – is virtually life-size, and meticulously detailed down to the headshell, counterweight and pitch controls. A record, which appears to have been left in the turntable the moment it was fossilised, bears the Arsham Studio and Rimowa logos, the latter modified to incorporate the artist's double-A emblem.
It is sheathed in a removable protection foam, and slotted vertically into an equally covetable Pilot Case – Arsham has retained the case's distinctive form and grooved aluminium construction while putting his own stamp on the design with clusters of logos. These mimic the stickers that travellers often use to distinguish their luggage from other near-identical pieces that they may encounter on a conveyor belt, but are in fact anodised into the aluminium, so they too will stand the test of time. 'All the imagery references historical Rimowa graphics that we found in the archive. They have catalogues dating back to the 1950s, and it was interesting for me to tap into that zeitgeist,' he describes. Among Rimowa logos from ages past are Arsham's name, redrawn in various midcentury typefaces. There's also a 'Rimowa man' graphic from the 1960s, who appears to balance a ridged case on his right index finger.
Arsham additionally made minor alterations to a plaque on the outside of the case, the locks, and the labelling on the wheels ('These are Easter eggs that sit within the design, to differentiate it from regular Pilot cases,' he says). But crucially, the case has the same multi-wheel system and telescopic handle that is a hallmark of Rimowa's usual products, so the collector can actually use it like any other piece of luggage if they are so inclined.
The accompanying leather luggage tag, in a specific shade of mint green that Arsham has used for over a decade, is currently not available for individual sale, though one imagines it would be highly sought after in its own right. Also presented with the special edition Pilot Case is a pair of art-handling gloves, another Arsham signature. It helps the user keep the artwork free of fingerprints, and adds a sense of ritual that makes the unboxing experience all the more pleasurable.
Five hundred models in a silver Pilot Case will be available in Europe, North America and South America on 7 October, while another 500 in a black case will be sold exclusively in Asia. Considering the fervent enthusiasm that Rimowa and Arsham inspire among their admirers, this collaboration seems destined to sell out rapidly.
Just as importantly, it has been an enriching experience for both parties. 'Daniel's creative mind is fascinating, so it's exciting for both our creative and engineering teams to collaborate with him and create something special,' summarises Emelie de Vitis, chief marketing officer of Rimowa. Arsham adds, 'A lot of my work relies on some level of imperfection, and that's definitely not the case with Rimowa. It's all about precision, so being able to work in that scenario was interesting.'
INFORMATION
Rimowa x Daniel Arsham Eroded Turntable in Pilot Case, limited edition of 500 in Silver (Europe, North America and South America only) and 500 in black (exclusive to Asia), €3,000, rimowa.com; danielarsham.com
Receive our daily digest of inspiration, escapism and design stories from around the world direct to your inbox
TF Chan is a former editor of Wallpaper* (2020-23), where he was responsible for the monthly print magazine, planning, commissioning, editing and writing long-lead content across all pillars. He also played a leading role in multi-channel editorial franchises, such as Wallpaper's annual Design Awards, Guest Editor takeovers and Next Generation series. He aims to create world-class, visually-driven content while championing diversity, international representation and social impact. TF joined Wallpaper* as an intern in January 2013, and served as its commissioning editor from 2017-20, winning a 30 under 30 New Talent Award from the Professional Publishers' Association. Born and raised in Hong Kong, he holds an undergraduate degree in history from Princeton University.
With contributions from