Michaela Yearwood-Dan 'holds the community' at Queercircle, London's new LGBTQ+ art hub
As Queercircle unveils its new cultural centre, we spoke to founder and curator Ashley Joiner and artist Michaela Yearwood-Dan about the inaugural show, the importance of queer 'space' and how the charity will engage with LGBTQ+ culture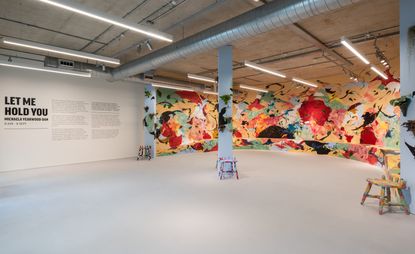 (Image credit: © Deniz Guzel)
Setting the tone for Queercircle's new Greenwich home as a safe space for the queer community, Michaela Yearwood-Dan's site-specific show, 'Let Me Hold You', invites visitors to pause, reflect and connect. A wrap-around painted mural with ledge seating has transformed the centre's gallery into an immersive sanctuary.
'Curating and creating a space with my work, both physically and metaphorically, is something I've always been really conscious of,' Yearwood-Dan explains. 'It's a show that mimics my canvas-based paintings, but allows the viewer to sit within, giving an opportunity to slow down.'
Her painterly botanical motifs within the large-scale mural reject the concept that LGBTQ+ people are 'unnatural'. Instead, she highlights the interconnectedness of the human and non-human experience, exploring what it means to be queer, and to love. Borrowed quotes from the cult film Paris Is Burning and re-appropriated furniture named after LGBTQ+ icons add a tongue-in-cheek nod to queer history.
Sculptural ceramics filled with plants trailing down pillars and functional stools and benches give the space a welcoming and domestic quality too.
'As a queer Black person – there are often conversations around safe space, and with queer spaces mainly centred around nightlife, I was very interested in the concept of how a space can truly be safe,' Yearwood-Dan explains. 'Having the opportunity at Queercircle to shift the formality of the "white-wall gallery" space, both keeping its integrity and introducing elements from the domestic, feels like achieving an ambition of accessibility and inclusion I've had for some time.'
Parallel to 'Let Me Hold You', Queercircle also revealed its first archive exhibition 'The Queen's Jubilee'. Curated by Ashley Joiner with the creative arm of the Gay Liberation Front led by Stuart Feather, it celebrates the radical drag queens who marched through London in 1972, for the first-ever Pride in the UK.
'Queercircle is very much rooted in what came before, and we're building on the momentum created by the people who paved the way before us,' explains Joiner. 'With our archive shows we're keen to encourage intergenerational dialogue, handing autonomy to members of the community to tell their own stories.'
Opening to coincide with Pride Month 2022, both shows launch Queercircle's seasonal roster of contemporary exhibitions, archive shows and artist residencies. The centre's first year of programming is fittingly centred on 'ecology'; originating from the Greek word oikos meaning 'household' or 'dwelling place', and explores topical environmental concerns.
'There are lots we need to tackle moving Queercircle forward and plenty of reasons why the centre needs to exist,' says Joiner. 'With cuts to the arts sector and mental health services, and [with] trans people under attack by the media and government, it's important for us to address issues from a place of love. We wanted to create a safe celebratory space that holds the community, and both exhibitions are great first examples of this, with plenty more to come.'
Art and social action are seamlessly interwoven at Queercircle, giving a promising insight into its multifaceted engagement with queer culture. This new venue provides much-needed 'space' for the LGBTQ+ community and I look forward to seeing it blossom into a place of radical change for us all.
INFORMATION
'Let Me Hold You' and 'The Queen's Jubilee', until 8 September 2022 at Queercircle in the Design District of Greenwich Peninsula. queercircle.org