British photographer Tom Johnson opens up about his work and wandering
From dusty dunes in Jerusalem to stirring family portraits, the modern-day nomad has launched a series of collectible prints with Prize Editions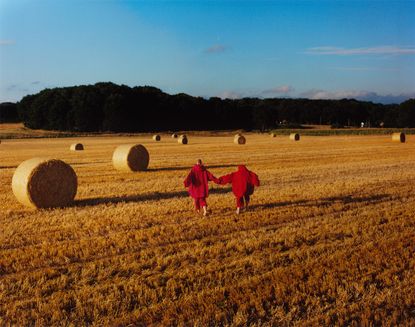 (Image credit: Tom Johnson)
Duality defines Tom Johnson's photographs: wilderness meets metropolis, nature rubs against the human, texture and movement collide, two people embrace. It's the yin yang of life played out in images – a harmonious kind of co-existence we're not used to seeing these days.

What also strikes you about his imagery is space, vast expanses of it, from rolling fields dotted with hay bales to dusty dunes in Jerusalem. It's ironic given that Johnson is currently spending most of his time in a motorhome, his preferred mode of traveling around the UK, while he shoots a new book. 'It's one of my favourite ways to work on projects,' the photographer explains from his temporary location in Wales.
He's been taking time out lately to focus on the forthcoming publication, as well as working on a series about 'a very large family', which connects to his continued interested in social dynamics. 'I like to tell stories of real people and how they are connected together. Community is a very important aspect of my work,' he adds.

His home might be tiny but there's a huge sense of freedom that underpins Johnson's photographs, whether he's shooting portraits of sisters, or a flower etched into a dusty windshield. Johnson hopes to give the viewer 'a sense of positivity, energy and optimism. Sometimes humour. Togetherness.'

Now, Johnson has collaborated with Stephen Ledger-Lomas at Prize Editions on a series of eight prints (100 editions are available of each from today) that he believes are 'representative of my work over the last couple of years'. From £150, collectors can get their hands on some of the emerging artist's most memorable works – some that originally appeared on the pages of magazines, but are now reinvented and standalone.
Prize Editions specialises in photography that collapses the boundaries between fashion and art, curating a selection of emerging talents who feel – like Johnson – unconstrained by what a photograph should or shouldn't be. 'I've been a long-standing admirer of Tom. He consistently produces documentary photography which challenges the norms of that genre,' says Ledger-Lomas. 'His body of work is developing at a rapid rate and as he moves further into longer term personal projects and books, I wanted to curate a snapshot of some of his most striking images to date.'

With his boundless approach, is there anything Johnson is dying to capture on camera? 'This is constantly changing, I have a list on my phone that I'm constantly updating. Yesterday I added: "Someone in heavy fog" and "a bloody nose",' Johnson told Wallpaper*.

Freedom is also political, and can be contentious. Do his own life experiences shape how – and what – he shoots? 'I think it can do yes. I feel very lucky to be able to be able to use photography to learn about the world in my own sort of way,' he adds. 'The camera can be take you into places you never would normally able to go, an excuse to get a different perspective on things.'
INFORMATION
Charlotte Jansen is a journalist and the author of two books on photography, Girl on Girl (2017) and Photography Now (2021). She is commissioning editor at Elephant magazine and has written on contemporary art and culture for The Guardian, the Financial Times, ELLE, the British Journal of Photography, Frieze and Artsy. Jansen is also presenter of Dior Talks podcast series, The Female Gaze.