Politically charged: Glenn Ligon's neon installation at Stevenson Gallery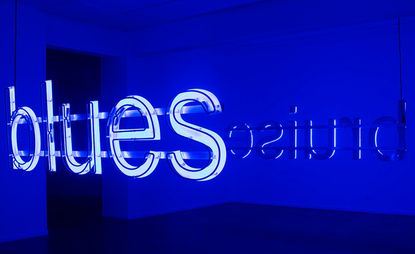 (Image credit: TBC)
South African powerhouse gallery Stevenson is presenting a new show, Glenn Ligon's 'Untitled (Bruise/Blues)' with reference to police brutality in both the U.S. and South Africa. The installation, opening on March 17, in Johannesburg comprises of suspended letters spelling out the words 'bruise' and 'blues' blinking on and off.

As part of the work it is composer Steve Reich's seminal 1966 recording entitled Come Out that plays in the space. There is also in conjunction the voice of Daniel Hamm (one of the Harlem Six – a group of black youths beaten and wrongfully arrested during the 1964 Harlem Riot) playing on a loop. At the time of this violence two strong voices opposed the treatment – political leader Malcolm X and social critic and writer James Baldwin. Ligon continues to reference these two gentlemen in his work.

'When Daniel Hamm, whose testimony Reich takes, says, "I had to open the bruise up to let some of the bruise blood come out" to show them that he had been injured, he [Hamm] actually makes a slip of the tongue', says Ligon. 'He says, 'I had to open the bruise up to let the blues blood come out to show them.' And I was interested in that slip between bruise and blues,' Ligon continues.

Ligon, his third show with Stevenson, showed similar work at the central exhibition of the 2015 Venice Biennale, 'All the World's Futures', curated by Okwui Enwezor. His work is represented in many public collections including the Museum of Modern Art, New York; the Guggenheim Museum, New York; the Tate Modern, London, and the Whitney Museum of American Art, New York.
INFORMATION
'Untitled (Bruise/Blues)' runs until 15 April 2016 at Stevenson Gallery, Johannesburg. For more information, visit the website (opens in new tab)

Photography courtesy the artist and Stevenson Gallery
ADDRESS
62 Juta Street, Braamfontein 2001
Postnet Suite 281, Private Bag x9
Melville 2109
VIEW GOOGLE MAPS (opens in new tab)
Daniel Scheffler is a storyteller for The New York Times and others. He has a travel podcast with iHeart Media called Everywhere (opens in new tab) and a Substack newsletter, Withoutmaps (opens in new tab), where he shares all his wild ways. He lives in New York with his husband and their pup.