Sheila Metzner's jewel-toned fashion photography goes on show in Los Angeles
'Sheila Metzner: From Life' is at the Getty Center until 18 February 2024, including her richly toned fashion photography and still lifes; the artist tells us more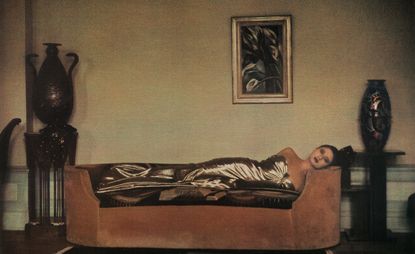 (Image credit: © Sheila Metzner 2023.41.2. Courtesy of Getty Museum )
Working in tones and textures as rich as classic oil paintings, Sheila Metzner uses photography to make monumental landscapes and delicate still lifes, though she is best known for her unique and elegant work in fashion.
Her soft-focus, jewel-toned pictures of creamy-skinned models in languorous positions led Getty Museum curator Paul Martineau to include her in his epic 'Icons of Style' exhibition in 2017. 'She invited me to visit her studio in Red Hook, Brooklyn, and I became intrigued by the beauty of her modernist compositions, as realised through the painterly Fresson process. I imagined an exhibition where I could place fashion pictures next to florals to heighten their formal qualities.' That exhibition, 'Sheila Metzner: From Life' is on view at the Getty Center through 18 February 2024. A smaller show at Peter Fetterman Gallery in Santa Monica continues to 5 January 2024.
Increasingly, curators and historians are accepting as fine art the work of photographers previously considered to be commercial, like Richard Avedon. Metzner readily acknowledges her success taking pictures for Chanel or Ralph Lauren, but emphasises that it is all part of her evolution as an artist and a person. The fashion shoots offered lucrative opportunities to travel the world, anywhere from Utah to Africa.
'I would say in almost every photo shoot that I did for a client, I did photographs for myself. If there were flowers while the models were getting dressed, I would photograph the flowers in the interim. If there were sets being built, they might become my series Metal Objects in Time and Space. I never, ever gave up working for myself.'
The show includes 40 pictures but each is representative of a particular series, a fact that Metzner ties to one of her earliest experiences. After she went to see photography curator John Szarkowski at the Museum of Modern Art, he included her work in his landmark 1978 exhibition 'Mirrors and Windows: American Photography Since 1960'. He also gave her advice. 'After he looked at my 22 pictures, he showed me the work of Paul Strand and he said, "You have to get it all in one picture."
'So at the Getty, any one of those pictures could speak for any other picture,' Metzner continues. 'The whole exhibition could be one photograph because it's all saying the same thing and it's really, really obvious that it's all the work of one person, whether it was done in 1980 or 2000. It's extremely consistent.'
Metzner, 84, is from Brooklyn, New York, where she still lives part of the time. After graduating from Pratt Institute, her talent led to her becoming the first female art director at top ad agency Doyle Dane-Bernbach. She decided to move to the other side of the lens after marrying the agency's creative director Jeffrey Metzner. As they had their five children, she was inspired by the 19th-century photographer Julia Margaret Cameron to make their portraits. She took night classes and learned to process film and develop her own black-and-white prints. At the time that Metzner went to see Szarkowski, only black-and-white photography was taken seriously. She yearned to work in colour but not the glossy cibachromes that could fade with time. She sought out the Fresson family in France, who used dyes that would not fade on paper.
The technique they created in 1895 lends the dreamy, romantic aura of the Pictorialists, 19th- and early 20th-century photographers emulating the appearance of traditional oil painting. Her first Fresson print, Modern Vase with Tulip (1980) is included in the show. Her approach was the opposite of the edgy photography of the late 1970s like that of Robert Mapplethorpe, though Metzner made a poetic picture of him standing in his black leather trench coat next to an art deco vase holding a white anthurium she had brought for him.
Whether the early black-and-white photos of her daughter Bega, glamourous Uma Thurman wearing a polka-dot gown by Patou, or magnificent still lifes of icebergs, she manages to 'get it all in one picture'. The Getty has purchased a number of the pictures for its permanent collection so the show is a triumphant exclamation point to her career.
She says, 'I was deeply embedded in the world of fashion but it wasn't any more or less than my daughter Bega or or my husband Jeffrey. All I'm saying is that I'm interested in life and my exhibition is called From Life. It's not called From Fashion.'
'Sheila Metzner: From Life' is at the Getty Center until 18 February
Receive our daily digest of inspiration, escapism and design stories from around the world direct to your inbox