Olgaç Bozalp's journey through forced migration, longing and childhood nostalgia
Photographer Olgaç Bozalp's powerful series 'Home, Leaving One For Another' is now on view at 10 14 Gallery, London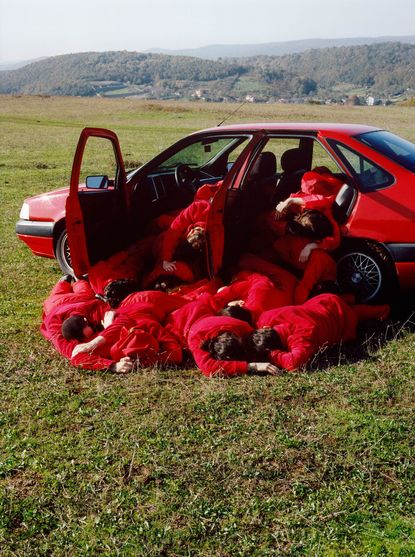 (Image credit: Olgaç Bozalp)
Whenever photographer Olgaç Bozalp said goodbye after a trip home to visit his family in Konya, Turkey, his aunt and grandmother would slip themselves in front of the window's lace curtain to watch him leave.
This poignant image is memorialised in Home, Leaving One For Another, Bozalp's series that is now both a solo show at 10 14 Gallery and a book published by Void. Bozalp's cultural identity remains a focal point as he approaches emotive themes of migration and its paradoxes, born from his own journey as a migrant.
The series initially stemmed from a desire to confront the complex question of why someone leaves one place for another. 'I started this series because I wanted to understand why one person wants to leave and be somewhere else,' says the photographer. Bozalp then found himself in such a nomadic situation for four years, constantly travelling or staying with others.
The resulting Home, Leaving One For Another comprises documentary images interwoven with staged scenes.
Together, the works create a striking visual narrative in which Bozalp opens up discussions about forced migration, fleeing dangerous communities and opportunities for migrants. The flowing image compositions echo the theme of movement; as viewers, we are left questioning whether these are moments of arrival, departure, relief or regret.
Particularly powerful are Bozalp's written memories that bookend the monograph; in a few short sentences, he opens up about his fond childhood moments, unfulfilled expectations and cultural dynamics. As Bozalp explains, the book and exhibition are 'a culmination of four years of my memories, my observations, my personal experiences and I wanted to share that'.
Olgaç Bozalp, 'Home, Leaving One for Another' is on view at 10 14 Gallery, 10-14 Crossway, London, N16 8HX, until 10 March 2023. instagram.com/1014.gallery (opens in new tab)
Bozalp's monograph Home: Leaving One for Another, is published by Void.
void.photo (opens in new tab)
olgacbozalp.com (opens in new tab)