Elder Sex: Marilyn Minter's steamy new photo book spotlights intimacy in older age
Artist Marilyn Minter's bold, body-positive new photo book, Elder Sex, is an unbridled exploration of sex after the age of 70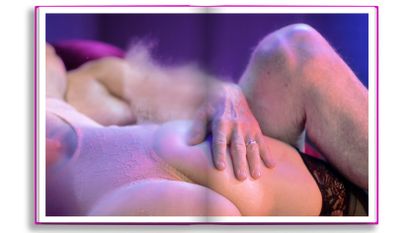 (Image credit: © Marilyn Minter, Elder Sex , JBE Books (Paris) & LGDR (New York City), 2023)
If anyone should make a book on sex lives after 70, it's surely Marilyn Minter. Since the late 1960s, the American artist has fearlessly dissected desire, feminism and beauty norms to provocative effect. She is best known for hyper-realistic paintings that sample the aesthetics of high-fashion editorials. But instead of ultra-polished perfection, her often-cropped bodies are smeared with dirt, and metallic make-up and laden with jewels. These often blurred images bring the mucky world of beauty and glamour, and its unrealistic standards, into sharp relief.
Slicked bodies, abundant flesh and skimpy lingerie: these are the aesthetic tropes that consumerism has been peddling for years, but rarely when it comes to the over-seventies. In Minter's new book, Elder Sex, gone are the hyper-taught, airbrush-ironed, and (almost exclusively) younger bodies for which erotica and any mainstream nudity have become synonymous.
Within its chromatically sumptuous, glistening pages, Elder Sex brazenly subverts stereotypes and conventional visions of sex. Some models are entwined in rapture through Minter's signature steamed glass approach, others engage in a more tender embrace. One woman, decked in a string of pearls and red nail polish, wields a pink sex toy. Minter doesn't shy away from the textures of the near-naked older body – its wrinkles, folds, and ripples – and demonstrates, unashamedly, that sex over 70 can be red hot.
What's most shocking about Elder Sex is that, in 2023, this might still be perceived as shocking. Even in spite of a recent surge in body positivity movements, ageing bodies, particularly women's, continue to exist under relentless scrutiny. With the global anti-ageing market set to boom to $120 billion by 2030, age is still framed as something to conceal and erase, not embrace. But not for Minter, who is boldly upending this narrative in Elder Sex.
Author Naomi Fry explores the feminist implications of Minter's images in her foreword to the book: 'Elder Sex, as the name of the series suggests, depicts not the supple bodies of the predictably young, but, instead, palpably old bodies engaging with one another, readying themselves for the act of lovemaking; and Minter's conscious, enthusiastic play with a conventionally boner-rousing soft-core vocabulary is not just cheeky, but also significant.'
Minter – who has also just opened a major new show of recent work at LGDR gallery, New York – originally published the series to accompany a 2022 article in The New York Times, in which writer Maggie Jones delved into the contemporary landscape of intercourse for older people through dozens of interviews. The findings were that those aged 70 and above were still having sex, and lots of it; for some, sex was even better than in their younger years.
As Fry continues, 'Minter is unembarrassed to put on display what we are not used to seeing – what culture thinks we don't want to see – and there is joy and magnificence in that gesture.'
In true Minter form, Elder Sex holds no bars. It is an unbridled, empowered and ultimately, jubilant celebration of intimacy and pleasure, proving that older age and sexiness make titillatingly comfortable bedfellows.
Elder Sex, by Marylin Minter, published by JBE Books and LGDR, will be launched on 19 May 2023 (available to preorder at amazon.co.uk)
A talk between Marilyn Minter, Naomi Fry and David Desrimais (director of JBE Books) will take place on 19 May at LGDR, coinciding with Frieze New York.
Marilyn Minter's show at LGDR runs until 3 June 2023.
Harriet Lloyd-Smith is the Arts Editor of Wallpaper*, responsible for the art pages across digital and print, including profiles, exhibition reviews, and contemporary art collaborations. She started at Wallpaper* in 2017 and has written for leading contemporary art publications, auction houses and arts charities, and lectured on review writing and art journalism. When she's not writing about art, she's making her own.