Pop artist Peter Blake's beans on toast recipe
where we interpret recipes in homage to our favourite contemporary art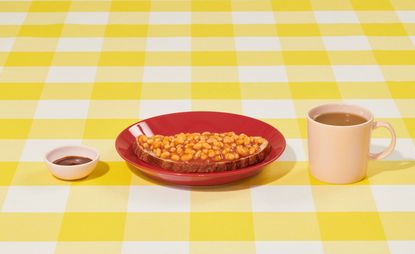 (Image credit: Sergiy Barchuk - Photography)
Quintessentially British yet universally appealing, accessible yet unimprovable. What can be said of Peter Blake's pop art is equally applicable to his favourite dish, beans on toast. It's a culinary staple that 'has been in my life from wartime to now', he tells us, while specifying that the dish be created with 'white crusty bread with Heinz beans, HP sauce, and a cup of tea on the side'.

His devotion to this simple yet precise formula echoes his rigorous approach to collage, made famous by his album covers for The Beatles and The Who, but equally groundbreaking in the worlds of painting and sculpture. As Blake says in his new book, 'I feel free to go anywhere in the realm of art. I believe that you can be diverse and serious at the same time. There are no fences and no gates.'
Pop art star Peter Blake's favourite dish is simple, precise, and full of beans, as featured in our monthly Artist's Palate series
June 2021 is a big month for the groundbreaking pop artist. London's Waddington Custot will stage 'Peter Blake: Time Traveller', (18 June - 13 August 2021) an exhibition that deep dives into the artist's singular approach to collage-creation. Spanning seven decades, the show sees historic, iconic works alongside new, unseen pieces. Coinciding with the exhibition, a new monograph, Peter Blake: Collage, which includes a foreword by Blake's school friend David Hockney, will be published by Thames & Hudson.

Artist's Palate is a modern take on a recipe feature. First published in 2009, the series was inspired by an artist's cookbook that MoMA produced back in 1977, which saw artists serve up their favourite dishes – think Robert Indiana's Hoosier Borscht and Salvador Dalí's Green Vegetable Purée.

Blake's recipe is the latest in a lineage of recipes contributed by leading artists to the monthly series. You might like to snap up Gabriel Rico's gravity-defying fish out of water, test the formula for Charles Gaines' grid-like southern-style candied yams, or even grow familiar with Claudia Comte's intriguing sharing dish, 'Eggplant Baby'. From hearty home comforts to bold culinary combinations, we've got your taste buds covered, and plenty of food for thought.
A version of this article was originally featured in the July 2021 issue of Wallpaper* (W*267), now available on newsstands and for free download
INFORMATION
Peter Blake: Collage, £50, published by Thames & Hudson in association with Waddington Custot
'Peter Blake: Time Traveller' is at Waddington Custot, 18 June-13 August 2021, waddingtoncustot.com
ADDRESS
Waddington Custot
11-12 Cork Street
London W1S 3LT
TF has been editor of Wallpaper* since December 2020. He is responsible for our monthly print magazine, planning, commissioning, editing and writing long-lead content across all our content pillars. He also plays a leading role in multi-channel editorial franchises, such as our annual Design Awards, Guest Editor takeovers and Next Generation series. He aims to create world-class, visually-driven content while championing diversity, international representation and social impact. TF joined Wallpaper* as an intern in January 2013, and served as its commissioning editor from 2017-20, winning a 30 under 30 New Talent Award from the Professional Publishers' Association. Born and raised in Hong Kong, he holds an undergraduate degree in history from Princeton University.
With contributions from