Paul Strand: an American enigma and his portrait of an Italian village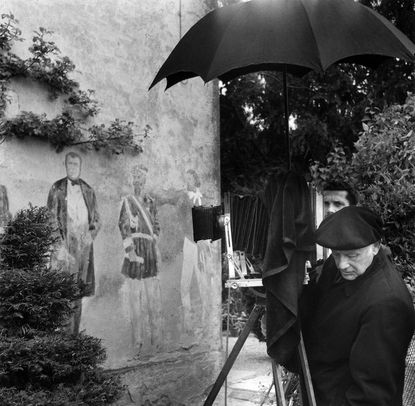 (Image credit: Hazel Kingsbury Strand)
Photographer, filmmaker, political activist, husband, enigma, collaborator, and pioneer: these are simply a handful of the words that could be used to describe Paul Strand (1870–1976). Together with Edward Weston and his mentor Alfred Stieglitz, he elevated modernist photography ­– in particular, 'straight photography' – to a fine art form in the 20th century.

Born in New York to a Jewish family, Strand was 12 when his father gifted him a Brownie camera. He did not, however, take to photography immediately, distracted by the advent of automobiles on the city's streets and other diversions. In 1904, his parents enrolled him in a public school where he signed up for an extracurricular photography course led by one of the science teachers, and was eventually introduced to Stieglitz's art gallery 291 (and later, the man himself).

From then on Strand was consumed, photographing everything from architecture to street portraiture, landscapes and still lifes (these with an appealingly Picasso bent). Inspired by Edgar Lee Masters' Spoon River Anthology, he soon became obsessed with the idea of creating a book about a village to 'find and show many of the elements that make this village a particular place where particular people live and work.'

In 1949, Strand met his third wife and fellow photographer, Hazel Kingsbury. They married two years later and departed for France, intending to stay only for a few months. There Strand encountered the poet Claude Roy and together they published a book documenting rural France, which would prove to be a springboard for his next work.

Strand befriended the Italian screenwriter Cesare Zavattini in Perugia. A mutual friend 'helped them get better acquainted', and from their friendship a collaborative project was born – Strand would document Zavattini's hometown of Luzzara, a small Italian village in the Reggio Emilia province. Zavattini brokered shoots with the villagers on Strand's behalf and together they composed a striking visual and literary chronicle of Luzzara, Un Paese: Portrait of an Italian Village, published in 1955.

These images are now on view as part of a major new retrospective, 'Paul Strand: Photography and Film for the 20th Century', at the Victoria and Albert Museum in London exploring his vast oeuvre. The show opens with photographs from his native New York in the 1910s, and spans work from his travels in Mexico, Ghana, the Hebrides, New England and beyond – but it is Un Paese that particularly shines amongst his endlessly fascinating subjects.

The most decisive photograph in the series (and suitably the book's cover) is The Family, a powerful tableau of an Italian widow and five of her eight sons. Four of matriarch Anna Lusetti's children had died infancy – she spoke of the physical abuse suffered by her husband at the hands of 'unidentified political assailants'. Her English-speaking son, Valentino, also served as Strand's translator and fixer.

'Strand was reserved, but he was also human,' wrote Zavattini a few years after the photographer's death. 'In an almost biblical way, he always journeyed down from the heights into the valley, losing himself among configurations of dust and human shapes.' Even in images absent of his fellow townspeople, Zavattini noted that 'the landscape itself breathes the evidence of human effort'. The pair never worked directly together, but a voluminous collection of letters, postcards, notebooks and correspondence detail their fastidious research.

Luzzara native Angela Secchi is one of the few people photographed for Un Paese still alive today. 'I was scared by Strand because he was a very serious man who never smiled,' recalls Secchi, now 73. She was nine years old and it was the first time she had ever seen a camera. Strand, she says, was impressed by her red hair and fair skin. Her aunt wanted her to wear a nice dress but Strand insisted on a threadbare smock along with her uncle's hat. He chose a doorway and it was over quickly.

Strand had no interest in glossing over the prevailing poverty in postwar Italy, even if his images today might seem infused with an inherently provincial and romantic quality. He was exacting and meticulous, shooting on a large format camera. Solemn and self-contained almost to a fault, Strand rarely spoke to his subjects. He was particular about the size and shape of prints, even modifying his camera to take off a ¼ inch from the frame. In a letter, he mentioned he abhorred square photographs – although his wife Hazel often shot in this format.

Hazel's photographs of Luzzara were only discovered in the 1980s and they offer a buoyant counterpoint to the sternness of Strand's compositions (the Cultural Center Zavattini has several of her work in its archive). She, too, photographed the Lusetti family, although they appear animated, embracing each other with a lively warmth as they smile resiliently for her­. She was the antithesis to her husband: a silent partner but, like Zavattini, no less integral to Strand's creative process.

Little has changed in Luzzara since Un Paese was published. Many of the locations and details in Strand's photographs – ­ the village square, the smattering of bicycles – exist virtually unchanged. It's as though Strand stopped time with his camera in 1952. Un Paese foreshadowed Strand's future work, and he would continue in very much the same vein, immersing himself in far-flung locales and documenting its inhabitants.

The V&A exhibition concludes with work from Strand's final years. He had spent the last 26 years of his life in Orgeval, France, with Hazel; she restored the garden, while he documented its growth over two decades. 'Almost all things of the world have their own character,' Strand once said. 'I think that what exists outside the artist is much more important than his imagination. The world outside is inexhaustible. What a person feels about life is not inexhaustible at all.' It seems Strand never tired of the world he so tirelessly photographed up until his death.
INFORMATION
'Paul Strand: Photography and Film for the 20th Century' runs until 3 July. Supported by the American Friends of the V&A. For more information, visit the Victoria and Albert Museum website (opens in new tab)
ADDRESS
Cromwell Rd
London SW7
VIEW GOOGLE MAPS (opens in new tab)