Paul Mpagi Sepuya: mirrors, exposure and concealment
American photographer Paul Mpagi Sepuya on holding a mirror up to the relationship between subject and camera. As featured in the September 2021 issue of Wallpaper*, on newsstands and available for free download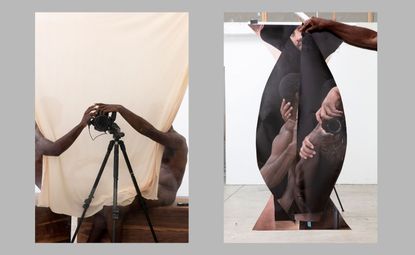 (Image credit: Paul Mpagi Sepuya )
Paul Mpagi Sepuya has one of the most distinctive aesthetics in 21st-century photography. In an age of ripe discussions about representation and identity, Sepuya, who is known for placing himself and his camera in the centre of his portraits, exposes the mechanics of image-making and identity construction with each shutter release. His use of mirrors to explore the unbound possibilities of portraiture reveals the complicated system of self-perception.

Thrusting identity into our eyes, he questions and explores the multifaceted nature of humanity, and negotiates the complicated notions of the gaze. How do we see and how are we seen? Sepuya, a Black queer man, explores the intersection of contemporary social discourse in his work. Questioning how categorisation frames our way of seeing, he is turning the mirror on the viewer to question their complicity in this gaze.
In some instances, the body is obscured, in others, entirely exposed – this concealing and revealing creates a dynamic confusion that awards agency to the subject and emphasises the idea of identity as fragmented. 'Something may be concealed, or hidden from view, but nothing is ever actually concealed.' Sepuya discusses his new work: 'There's a lot of playing around with the formal and compositional elements of the images and the studio. In some of the recent images, you see someone looking into a mirror from a position where the viewer is unable to see the reflection of the person. You can see the image of the person, but the viewer is excluded from the enclosed loop of self-gratification that the subject is engaged in.'
We are invited to discover the relationship between the photographer and the subject, and the stories in the space between the camera and two bodies. In recent years, Sepuya's work has gained acclaim at full speed, featuring in galleries worldwide, including the 2019 Whitney Biennial and a travelling solo exhibition organised by the Contemporary Art Museum St Louis. In this exhibition, as in the image created for our September 2021 limited-edition cover, Sepuya questions our perceived reality while constantly reminding us that the world we live in can be as constructed as the set-up for a photograph. Smudges and smears on mirrors suggest human touch, indicating that the mirror's surface is not a trick 'non-space' but a direct inclusion to create a multi-layered universe. When set against the white walls of the studio, they act like fossils, memorialising time and humanity's attraction to leaving a mark on this world. When set against darkness, they create a pattern of lived experience – a mapping of identity and moments – as the latent image is made visible. Darkness – dark material, dark skin, the absence of light – awakens these histories. At times, as in Darkroom Mirror Study (_1990750), 2016, we only see the tools – the camera, the tripod – reflected in a mirror. These become extensions of Sepuya and neutralise the subject-photographer relationship. The drama of cloaking oneself under the drapery of the camera obscura is contemporised via the lens, voyeuristically peeking from an opening in between plain white material, or from the camera, watching lonesomely as its operator is disguised by a wooden pedestal, revealing but a solitary hand.
Sepuya works in front of, straddling, and behind the backdrop and props, sometimes turning himself into a backdrop that delineates a space intended to be seen. 'It's about making the viewer aware of where they are. It's a closed loop – both voyeurism and exhibitionism are enclosed.' Hands touch, delicately grazing against each other, with the charged anticipation influenced undoubtedly by Michelangelo's Creation of Adam. The Black hands that command the camera become catalysing agents of memory. Approaching wide-ranging themes of beauty, trust, desire and hope, Sepuya wields the camera with sensitivity, questioning and longing. He says, 'I want to infiltrate conversations that otherwise would not want to include images of Blackness.' He encourages us to look around and think about what it means to be human.

When trompe l'oeil succeeds, it makes us see, but also obscures. Its triumph is measured in two instances when the eye is deceived and when it is undeceived. Sepuya brings us to and from these moments through powerful jolts out of reality, asking us to question what we believe to be true. Reality is splintered through his eyes. When we look in a mirror, we see an image of ourselves behind the glass. What does it mean to be fragmented by the refraction of the mirror surface?
When we do see full faces, Sepuya captures a full emotional register in their frank stares. The matter-of-factness of the composition and subjects resonates deeper than is instantly apparent. The mechanics of the photo, the people, the nonchalant gaze, the languid bodies of men at home with their nakedness are all very 'so what'. Sepuya's subjects become part of a rich tradition of queer male portrait photography, alongside Carl Van Vechten's Harlem Renaissance performers, Peter Hujar's downtown New Yorkers, and Derek Jarman's Super 8 lovers.

'I'm interested in how visualised racial difference works in pictures and how representations of queer and homoerotic acts get to the fundamental and underlying formal, technical and historical processes that make up photography.' If queerness is seldom seen in traditional photography, representations of Black queer bodies are even fewer. 'That being said, I'm not interested in making a series of work that says, "Here, look at pictures of Black people. This will tell you something about the conditions of a certain political or social moment." I have always been resistant to that.' Sepuya's lens sees a truth and a utopia that frees us from the didactic questioning of queer male nudity.
'I try to understand how my body, other Black bodies, white bodies, or white-passing bodies work in pictures. How Asian bodies who are often misread as white bodies work in pictures,' he contextualises. Originally, Sepuya began documenting his friends and acquaintances, mostly queer men of colour in Brooklyn. 'I'm interested in Blackness, and thinking about it materially and visually for what it produces in images, and how it's inseparable from the production of photographs,' he says. 'I want to force conversations on the formation of queer spaces, homoerotic activity and mutual envisioning, objectification, etc, tied to the fundamental, indefinable space for desire for seeing that photography comes from.'

His images are testament to the intimacy of strangers, lovers and friends, rendered with further intensity by way of the relationship between artist and subject, between photographer, photographed and photograph. His archive of human contact, through refractions, reflections, smudges, smears and stares, casts the viewer, not the photographer, as voyeur. The world cannot stop looking at Sepuya's community.
INFORMATION
paulsepuya.com (opens in new tab)