'Citizens of Memory': nostalgia and the Black experience explored
'Citizens of Memory' – a new group show at The Perimeter, London – sees seven artists explore memory, nostalgia and the Black experience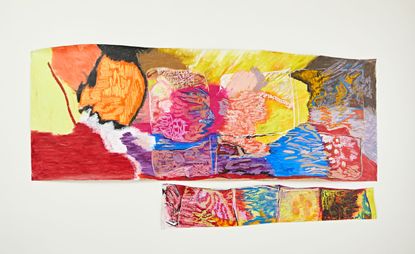 (Image credit: Andy Stagg)
In the softly lit rooms of its four-storey mews, The Perimeter gallery tenders 'Citizens of Memory', an exhibition so uncanny that it approaches a dream state. The space's intimacy and quiet grace make it appropriate for this sort of exposition of vulnerability. Curated by Aindrea Emelife, seven artists deftly explore both a collective and personal past, presenting works coloured by the lens of their own Black experience.

Working dexterously with a complex vocabulary of motifs, Walter Price presents fragmented scenes exploring his African-American identity and service in the US Navy, blurring the lines between collective history and individual memory. Rachel Jones' use of abstraction is more committed and introspective, reflecting her 'Black interiority'. Her oil pastel diptychs on loose canvas present near-geological forms within which one can just about discern the recurring imagery of teeth.
British-Nigerian artist Tunji Adeniyi-Jones' works on paper seek a visual language for the overlooked cultural histories of West Africa. The artist's work – mesmerising, colourful and dancing – gives body to both his Yoruba identity and his Britishness, with geometric figurations that swirl into each other in a festival of movement.

The sense of what is lost is palpable, too, in the works of Cassi Namoda. Tackling 'lost' histories and coupling research with visual representation, her paintings reintroduce forgotten figures into contemporary memory.
Referenced from her aunt's old photograph, Zimbabwe-born Kudzanai-Violet Hwami's With All My Friends is a delicate and atypically small group portrait of the artist's many cousins. The thickly bordered composition compels you to edge closer and study the familial ties and warm precision of young faces until you almost come to believe you recognise them.

Also revisiting childhood memories, Olivia Sterling's commissioned painting in 'Citizens of Memory' uses motifs of cake and jam over six panels to interrogate the violence of sugar-coated histories and experiences of Blackness. Sterling juxtaposes the playfulness of her comic-strip scenes with the intangibility of memory and the threat suggested in the frenzy of arms with no faces.

Nigerian-British artist Ndidi Emefiele's Sail me down deep river is a poignant reflection on her sister's passing in 2019. Surrounded by a cat, a bird and an ominous figure, the subject bears the artist's characteristically oversized head and large, piercing eyes. A skilful exercise in both fable and folklore, we are struck by the melancholy of the scene as we realise that, despite her companions, she is alone.
INFORMATION
'Citizens of Memory', until 24 July 2021, The Perimeter, London. @theperimeterlondon
ADDRESS
20 Brownlow Mews
London WC1N 2LE