The art of the beautiful game: football moves off pitch and into the museum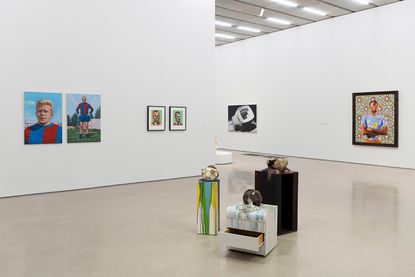 (Image credit: Oriol Tarridas)
Football has many guises. It is a pastime where schoolboys scrape knees in a courtyard; a tear-jerking symbol of national pride; a multi-billion dollar industry with corporate interest; a global franchise with a zealot-like devotion to the athletes – the list goes on. And yet, no matter what form it takes, the sport still embodies a common vocabulary, uniting people from different cultures and nations.

The show 'The World's Game: Fútbol and Contemporary Art', on view at Pérez Art Museum Miami (PAMM) until 2 September, explores football's many definitions. Overlapping with the 2018 FIFA World Cup in Russia, the exhibition investigates soccer's role in art through the works – including photography, sculpture, and painting – of more than 30 artists such as Andy Warhol, Maria Lassnig, and Antoni Muntadas.
Warhol's 1978 portrait of the Brazilian football star Pelé, part of the artist's Athletes series, considers the God-like status that many athletes assume. Brazilian artist and photographer Vik Muniz similarly depicts the sporting hero in his 2003 piece Edson (Pelé) from Pictures of Magazines, grinning next to Warhol's. The depiction of athletes as adored and influential figures of pop culture is compounded by American painter Kehinde Wiley's portrait of renowned Cameroonian player Samuel Eto'o, who won the African Player of the Year award a record of four times. Eto'o stands in his portrait (above) powerful, radiating, larger than life.

Other artists question to what extent football can be considered a 'game'. Taryn Simon's large-scale photograph from her series Paperwork and the Will of Capital (2015) focuses on the floral centrepiece that adorned the FIFA negotiating table when the sporting organisation agreed to outlaw third-party ownership of economic rights of football players. Paul Pfeiffer, on the other hand, injects amusing absurdity into the exhibition with his video Caryatid (2003), which features isolated footage of players 'diving' in attempts to gain penalties. The sport is stripped of solemnity; a quality more noticeable when gone.

The exhibition's variety competes with the diverse definitions of football itself. It investigates how art can intersect with sport, two categories that can sometimes feel diametrically opposed. PAMM director Franklin Sirmans notes the exhibition 'presents the art of the game as much as the game of art'.
INFORMATION
'The World's Game: Fútbol and Contemporary Art' is on view until 2 September. For more information, visit the PAMM website
ADDRESS
Pérez Art Museum Miami
1103 Biscayne Blvd
Miami