Dana Lixenberg captures over 20 years in LA's Imperial Courts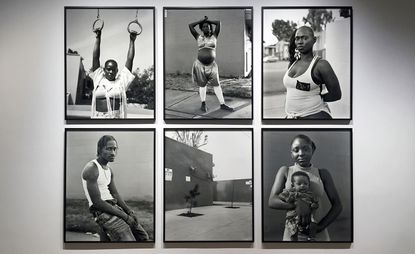 (Image credit: Yoko Choy)
In October, Amsterdam and New York-based Dana Lixenberg loaded her car with copies of her new book Imperial Courts 1993–2015 and drove to the town of Watts in Los Angeles. The books were a gift to the residents of Imperial Courts, an overwhelmingly African-American estate in South LA, who were looking forward to seeing the woman they know as the 'picture lady', who has been photographing their families in the past 22 years.
The story of the Dutch photographer's bond with Imperial Courts began in 1993 when she was assigned by the Dutch magazine, Vrij Nederland, to document the reconstruction of the area, which had been wrecked by racial riots. The community's frustration and isolation moved her to start the project.
She was not granted easy access; Tony Bogard, then leader of a major neighbourhood gang, had wanted to know: 'What do we get out of it?' In her book, Lixenberg admits, 'I still can't really answer his question. What do photographs give to people, outside of the opportunity to remember our past and those we might otherwise forget?' People were reluctant, at first, but working with a large, awkward camera (a 4x5 large format film camera) and gifting Polaroids must have helped her to win people over.

She was not naïve, but was determined tell the lives of her subjects from an angle other than the extremely one-dimensional reportage at that time. The portraits are pared down; the emotions and drama come direct from the de-sensationalized, subjects themselves rather than any attempt to focus on the background that shaped them.
Two months later, the Imperial Courts work was first presented in the Netherlands. But that was only the beginning and Lixenberg continued to visit throughout the years. 'People started asking when I would come back to take more pictures,' she says. I became more aware of photography as a tool to really document and preserve personal history.'
She returned to Imperial Courts with her camera in 2008 to work on a more thorough and layered documentation; this time, she began using sound and video. She started looking at the landscape and the relentless reality and unwritten rules of the still-racist society that shaped its inhabitants.
In December, her exhibition, in the same name as the book, opened at Huis Marseille in Amsterdam. Photos from the past two decades are carefully curated in the canal-house, multi-floor space. The time span between the images allow the viewer to imagine the stories that have taken place in the interim. In the attic, a 1999 Dutch television documentary of the project is shown side by side the video Lixenberg made during her October 2015 visit.
Yet, it is not goodbye. The project goes on in the form of an interactive website, which allows the residents to contribute and continue writing their family's history.
INFORMATION
Find out more about the Imperial Courts Project, website (opens in new tab)
'Imperial Courts 1993–2015' is on view at Huis Marseille, Amsterdam, until 6 March 2016
ADDRESS
Keizersgracht 401, 1016 EK Amsterdam, Netherlands