Off-street art: Hong Kong's Pearl Lam Galleries reveals 'Hidden Street' show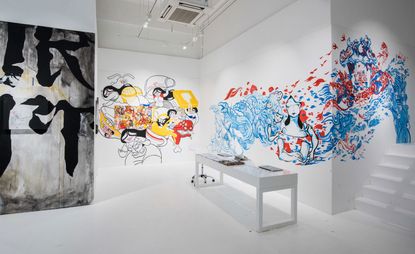 (Image credit: TBC)
A new exhibition of street art at Pearl Lam's eponymous Hong Kong SoHo gallery is attracting as much interest from surrounding elderly shop owners selling Chinese wares as younger visitors.

The works – by nine Hong Kong-based artists – have been created as part of a community programme to highlight the city's street art culture. Self-taught graffiti artist Bao worked with four other artists to create two large murals that take inspiration from the red, white and blue colours of the neighbourhood. 'Found' artefacts add an interesting collage-like effect, with mahjong tiles representing local birdlife and a Hong Kong post box. 'I don't usually feel comfortable in galleries but here it is totally different because we can do what we want,' Bao explains.

The gallery's ground floor and glass facade present a diverse range of murals and paintings; upstairs, a video documenting the creative process of turning the gallery into a street corner forms a further part of the exhibition.

Canadian artist Peter Yuill was responsible for the show's standout piece – an intricate hand-painted raven inspired by Norse mythology, which took 12 days to create. The artist, who regularly creates work for the likes of Montblanc and Converse, says he enjoyed the experience of painting at a large and 'impactful scale'.

Meanwhile, up-and-coming graffiti artist Sinic's contribution sees an organic fusion of Western and Chinese calligraphy along with advertisement posters he removed from local walls. 'I tried to maintain the back alley urban state so people can see what is happening to the old buildings in the area,' he explains.

In keeping with the spirit of street art, more work will be added later with community workshops and talks also planned in the coming weeks. Visitors can also hit the streets with a provided map showing the nearby locations of more of the artists' works.
ADDRESS
Pearl Lam Galleries
Shop No 1 G/F & 1/F
SOHO 189
189 Queen's Road West
Sheung Wan, Hong Kong
VIEW GOOGLE MAPS (opens in new tab)