All Star: Converse revamps its iconic Chuck Taylor sneakers for the first time in a century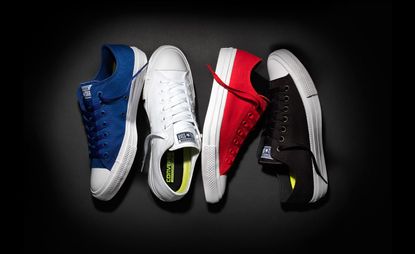 (Image credit: All Star)
n its 98-year-existence, the Converse Chuck Taylor All Star has become so universal, that it has been worn both to work and to weddings, and by everybody from Wilt Chamberlain to The Ramones to Andy Warhol to Patti Smith. Over one billion pairs have been sold since its 1917 debut, and every 43 seconds somebody purchases a pair of the iconic shoe. Although nearly a century has passed since the classic sneaker first came out, its basic design went unchanged since 1949 — when the black and white Chuck Taylor All-Star high top that we all know today was introduced — until yesterday.
Converse unveiled the Chuck Taylor All Star II (opens in new tab) in Boston, where the company is headquartered. Its creation began two years ago, when the design team received a simple brief: 'Take the most beloved, iconic footwear silhouette in the world — The Chuck Taylor — and give us more.' Converse surveyed its consumers around the world to ask them what they want before they took to the design process. 'As we started to design it, we wanted to make sure that we kept the icon intact, but we really focused on the details, and let the iconography of the perfect sneaker be amplified a little bit,' said Converse creative director Bryan Cioffi.
Although at first glance, the Chuck Taylor All Star II, which at $75 is only about $15 more than the original, looks almost exactly like its predecessor, after trying it on, the differences become more evident. Made from durable Tencel canvas, the Chuck Taylor All Star II also features a Nike (Converse's parent company) Lunarlon sock liner, a foam padded collar, a non-slip padded tongue and a perforated, micro-suede liner. The silver eyelets have turned monochrome matte, the All Star patch fully embroidered, while the stripe on the foxing has been taken away.
It will also be available in four colourways: black, white, salsa red and sodalite blue. The result is a snugger fit and more cushioned sole than the original. 'We broke the Chuck Taylor down into four shapes: the shape of the upper, the circle patch, the shape of the foxing tape and toe cap,' said Cioffi. 'We turned everything else down so we could give people a very pure representation of the icon.'
In short, the Converse All Star Chuck Taylor II keeps all the important features of the original, while adding features that are friendlier to your feet. Just make sure to go a size up because of the snug fit. 'It's the sneaker and design that you've always loved, with much, much more — more innovation, more cushioning, more... just more of everything,' summarises Cioffi.