The Oscar Wilde Temple opens at London's Studio Voltaire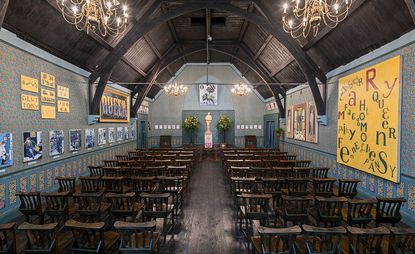 (Image credit: Francis Ware)
Non-profit gallery Studio Voltaire has announced that it will be bringing artists McDermott & McGough's The Oscar Wilde Temple to London in early October. The installation, which featured in New York City's The Church of the Village in 2017, derives inspiration from the Irish poet and playwright who was tried and imprisoned for refusing to hide his queer identity.

Studio Voltaire's space in Clapham, South London is converted from a Victorian chapel, featuring a vaulted ceiling and gothic arched windows, which make it a fitting venue for a shrine to Wilde. In a nod to his aesthetic values, the gallery will be decorated in period wallpaper, hangings, and 19th-century chandeliers and furniture. Flanking the centrepiece – a statue of Wilde himself – will be a series of paintings and sculptures from McDermott & McGough, spanning both old and new work.
Known by their linked surnames, David McDermott and Peter McGough have worked together since 1980, rising to fame via a self-imposed immersion in the Victorian era. In an effort to create a queer version of history, they restricted their art studios (techniques and materials included), home and attire to the styles of the late 19th and early 20th centuries. McGough has likened that experiment to being 'frozen in time in a photograph'.

Unlike their earlier work, The Oscar Wilde Temple spans past and present, paying homage to Wilde as well as 12 LGBT persons from the 20th and 21st centuries, whose enormous sacrifices paved the way for gay liberation and equality. Among them are Alan Turing, the father of artificial intelligence who was driven to an early death by persecution; Harvey Milk, the first gay elected official in Californian history and assassination victim; and Marsha P Johnson, the drag queen and leading gay rights activist who likewise met a brutal end. A book of remembrance will invite visitors to record stories of loved ones lost to the AIDS crisis.
More than a memorial to a painful past, the installation also anticipates a future in which LGBT persons are accorded equal dignity and rights. The artists look forward to having people of all orientations and walks of life 'come together in celebration of love, unity and communion'. Noting that many religious institutions once condemned same-sex marriage (and some continue to do so), they intend for The Oscar Wilde Temple to be a secular space. 'Here anyone can joyfully join in union,' they say.

The installation will be free to visit, while donations and proceeds from private bookings will benefit The Albert Kennedy Trust, a UK-based charity that supports homeless LGBT youth.
INFORMATION
The Oscar Wilde Temple is on view from 3 October 2018 – 28 April 2019. For more information, visit the Oscar Wilde Temple website
ADDRESS
Studio Voltaire
1A Nelson's Row
London SW4 7JR
TF Chan is a former editor of Wallpaper* (2020-23), where he was responsible for the monthly print magazine, planning, commissioning, editing and writing long-lead content across all pillars. He also played a leading role in multi-channel editorial franchises, such as Wallpaper's annual Design Awards, Guest Editor takeovers and Next Generation series. He aims to create world-class, visually-driven content while championing diversity, international representation and social impact. TF joined Wallpaper* as an intern in January 2013, and served as its commissioning editor from 2017-20, winning a 30 under 30 New Talent Award from the Professional Publishers' Association. Born and raised in Hong Kong, he holds an undergraduate degree in history from Princeton University.