A new Marrakech museum is bringing Africa's flourishing art scene home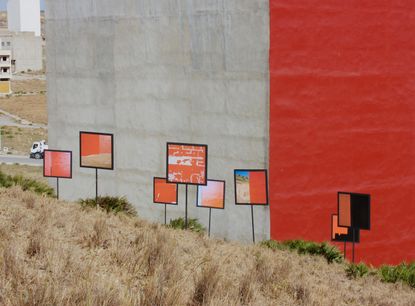 (Image credit: Hicham Benohoud)
The Museum of African Contemporary Art Al Maaden (MACAAL) has launched in Marrakech. The museum soft-launched to locals in 2016, opening its doors to global audiences in February 2018. It's a calculated move that's paid off: nearly two years on, MACAAL impressed its first official flock of foreign visitors, as the international art community descended on the city for the inaugural Marrakech edition of 1:54 Contemporary African Art Fair.

At the helm of the museum are Moroccan art collectors and father-and-son duo Alami Lazraq and Othman Lazraq, who have given the building 'a second life'. MACAAL is their latest philanthropic endeavour, forming part of their charitable association Fondation Alliances. Under the directorship of Othman, MACAAL brings the Lazraq family's private collection of contemporary African art – amassed over the past 40 years – to a broader audience.

Founded in 2009, Fondation Alliances is backed by Moroccan real estate group Alliances Group. Beyond MACAAL, Fondation Alliances oversees three other not-for-profit initiatives including the Al Maaden Sculpture Park (inaugurated 2013); bi-annual photography award La Chambre Claire; and the Passerelles ('Bridges') programme, connecting young locals with contemporary art and design through workshops, classes and museum visits.
'This museum is a family museum – it is what I like to call a "human-scale" museum,' explains the 29-year-old Othman, of the 900 sq m space. 'We want to spread the word outside the country to make Morocco and Africa shine. We're trying to give a voice to young, emerging and established artists, to be proud of their roots in their continent and not abroad.'

MACAAL is being inaugurated by 'Africa Is No Island', a group photography show comprising some 40 artists working on the continent, as well as in the wider context of African culture. Curators Baptiste de Ville d'Avray, Jeanne Mercier and Madeleine de Colnet, co-founders of African art platform Afrique in Visu, explain, 'Africa is not an island but rather a connected territory, full of possibilities.'

The curators pull it off with remarkable conviction: Namsa Leuba, based between Switzerland Guinea, 'examines African identity though the Western imagination', while Italian/Senegal artist Maïmouna Guerresi's taps into Islamic art with her regal portraits. More extraordinary still, are Ivory Coast photographer Joana Choumali's images of the last generation of scarified African people, still performing superficial incisions on skin to create permanent identifying marks.

The carefully calibrated exhibitions design serves it well too. Othman explains he wanted it speak the same language as the local architecture: 'The scenography brings intimacy to the space, and a sense of the medina inside the museum – there's small routes, paths, labyrinths, archways.' An accompanying sound installation by Italian artist Anna Raimondo brings the noises of Marrakech's souks into the museum space (the communal spirit is reflected in the museum's couscous feasts on Fridays).

Upstairs, the museum is displaying artworks from its permanent collection. Meanwhile, free shuttles to MACAAL run daily from Marrakech's main square Jamaa el Fn. 'I want to give back a place to be free and neutral – we don't have that many places like this in Morocco,' adds Othman. 'MACAAL is bringing back the [African] voice here in Morocco, it is something very important touching all of us, as Moroccans, as Africans.'
INFORMATION
'Africa Is No Island' is on view until 24 August. For more information, visit the MACAAL website (opens in new tab)
ADDRESS
MACAAL
Al Maaden
Sidi Youssef Ben Ali
40000 Marrakech
View Google Maps (opens in new tab)