Crime, corruption, and sin: the dark underbelly of Los Angeles in the 1920s-1950s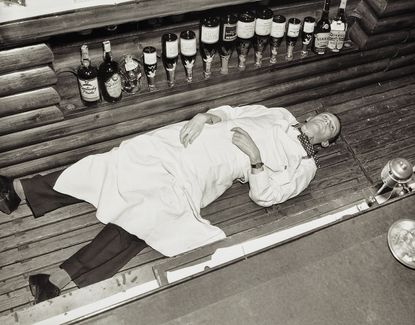 (Image credit: © Cliff Wesselmann. Courtesy of Gregory Paul Williams, BL Press LLC/Taschen)
Raymond Chandler's Philip Marlowe, Billy Wilder's Barton Keyes, and Roman Polanski's JJ 'Jake' Gittes: three iconic private investigators who popularised the Los Angeles crime story in the 20th century – a good man traveling solo through a hot, seedy, grimy city, where bad things happen to bad people.

'The underbelly of Los Angeles was festering like oranges rotting in the perpetual sun,' writes Jim Heimann in the introduction to Dark City: The Real Los Angeles Noir. The new Taschen book explores the sinister side of the City of Angels through the photographs and clippings published in local newspapers between the 1920s and 1950s – the real life stories that inspired Chandler, Wilder and Polanski's fictional characters.

The photographs also touch on the sensationalism rife in Los Angeles — the bloodlust of those newspaper readers almost as fervent as the bloody-minded criminals, such as the infamous Trunk Murderer, known as Winnie Ruth Judd, who dumped the dismembered remains of her two former roommates in suitcases left at Central Station and Central Avenue in 1931.
It's not only a foray into some of Los Angeles' most gruesome crimes, as they were narrated at the time, but traces the history of corrosive corruption in the city, from the perversion of Hollywood stars – and fame-seekers like the Black Dahlia, whose brutal murder in 1947 was never solved – to the emergence of mob culture, cult leaders, and unscrupulous police officers, the fiction is sometimes more believable than the reality.
RELATED STORY
The pictures implicate the role of reporters, and the vigilantism of the papers with their speculation over suspects, scandal and the secret lives of these quasi-mythological yet very real figure, such as the Black Widow, who ran an interstate prostitution ring from LA in the 1940s.

At the same time, Dark City becomes a psychological study of the contemporary reader: what is it about these crimes that attracts us, still today? You might remark on the human ability to spin a yarn out of the most horrific events, as the book becomes as much a socio-political portrait of a changing American city as a dark delight in criminality and its consequences.

'Real cities have something else, some individual bony structure under the muck. Los Angeles has Hollywood – and hates it. It ought to consider itself damn lucky,' wrote Chandler in The Little Sister. 'Without Hollywood it would be a mail order city. Everything in the catalogue you could get better somewhere else.'
INFORMATION
Dark City: The Real Los Angeles Noir, £75, published by Taschen (opens in new tab)
Charlotte Jansen is a journalist and the author of two books on photography, Girl on Girl (2017) and Photography Now (2021). She is commissioning editor at Elephant magazine and has written on contemporary art and culture for The Guardian, the Financial Times, ELLE, the British Journal of Photography, Frieze and Artsy. Jansen is also presenter of Dior Talks podcast series, The Female Gaze.