Loribelle Spirovski explores the fine line between abstraction and photorealism
In her striking paintings, the emerging Australian artist riffs on formal portraiture, modernist furniture, surrealism, expressionist landscapes and more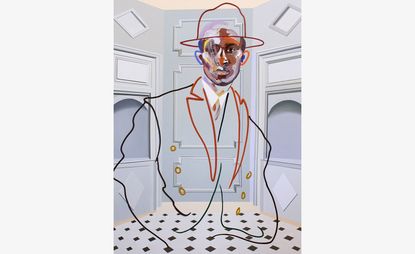 (Image credit: TBC)
Love and death are two of art history's oldest themes – but as 20-something artist Loribelle Spirovski proves, there is still plenty to say. Anxiety, depression, and mortality all surface in Spirovski's portraits, on show until 11 December at London gallery House of Fine Art, that draw on surrealism and photorealism.

Combining traditional methods with more experimental techniques, in a single painting Spirovski can mix a studied, formal kind of portraiture with a frenetic, jumpy line — as if she's vying with her own ideas. There is a nervous energy to her paintings, in their strident colours and conflicting rhythms — a female gaze on male subjects and towards the canon of painting that riffs on Bacon and Schiele, and contends with expressionists like Munch or Ensor.

Born in 1990 in the Philippines, Spirovski migrated to Australia where her experiences were not always easy, but she has channeled all the fragments of her heritage into her practice as an artist. 'I think I'm naturally drawn to disparate elements of art history, and feel compelled to combine them in unexpected ways,' Spirovski tells us.
'Growing up in the Philippines exposed me to European culture indirectly through the vestiges of the Spanish influence in that country,' the artist adds. 'Eventually meeting my father, who is Serbian, and moving to Australia which is in itself a cultural melting pot, further reinforced the idea of combining different aesthetic modes. These manifested naturally in my work.'

Organised into series such as Memento Mori, whose young subjects are people who have battled depression, or Homme, anonymous, ghostly male figures from the artist's own life (her husband is a frequent subject). Spirovski says she works intuitively according to her sitter: 'I tend to take liberties in abstracting the person's face and form, often changing genders and facial features until they take on new identities.'

She sometimes also incorporates a collage of references, taken from books she's reading, magazines and found imagery culled from films or music. Spirovski is at her best when she creates a sombre, deeply emotional language around the figurative from this mash-up of inspirations. The space around the figures often becomes both oppressive and restrictive – almost claustrophobic. This is just as important as the artist's relationship to her subjects themselves.

'I approach every series as a new experiment and a new lesson, moving closer and closer toward a kind of visual language that I feel best communicates how I connect to the world and those around me,' she says. Spirovski has already made a name for herself in Australia (she is currently based in Sydney), but this is her debut on this side of the world and proves the emerging artist is one to watch.
INFORMATION
'Love, Death and the Time I Knew You', until 11 December, HOFA Gallery. thehouseoffineart.com
ADDRESS
House of Fine Art
58 Maddox Street
London W1S 1AY
Charlotte Jansen is a journalist and the author of two books on photography, Girl on Girl (2017) and Photography Now (2021). She is commissioning editor at Elephant magazine and has written on contemporary art and culture for The Guardian, the Financial Times, ELLE, the British Journal of Photography, Frieze and Artsy. Jansen is also presenter of Dior Talks podcast series, The Female Gaze.