Capitalist realism: Polke and Richter are right on the money in Trondheim show
A recent show of graphic German works is right on the money at Trondheim Kunstmuseum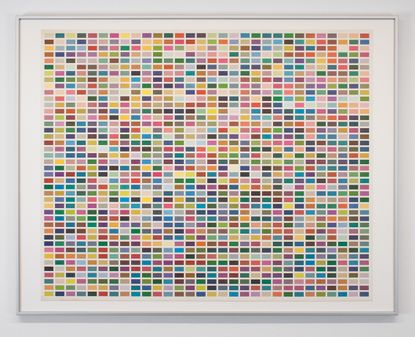 (Image credit: Courtesy of Sammlung René Block)
The term 'capitalist realism' was first coined in 1963 by a motley crew of German artists, including Konrad Lueg, Sigmar Polke and Gerhard Richter, during a group exhibition of their work in an abandoned butcher's shop in Düsseldorf. That same year, Richter and Lueg followed up with a now-fabled 'happening' at furniture department store Möbelhaus Berges.

Currently on show at the Trondheim Kunstmuseum in Norway, 'Kapitalistischer Realismus' sees works by these artists reunited once again by the museum director Johan Börjesson. German gallerist René Block, who championed several of these European Pop Art figures at his gallery in the sixties and onwards, has loaned many of the works in the exhibition.

'Capitalist Realism was another form of provocation,' Richter once explained in a 1985 interview with Artforum. 'This term somehow attacked both sides: it made Socialist Realism look ridiculous, and did the same to the possibility of Capitalist Realism as well.' To wit, the graphic works heavy-handily parody everyday objects and commodities. There's a tinge of irony throughout – in one 1970 work by Wolf Vostell, Autobahnkreuz TV, a disproportionately large television sits atop a highway loop, a nod to Germany's desire for Americana at a time when the country was still divided.

In addition to works from Block's collection, the exhibition also hosts a selection of pieces by Norwegian artist group Gras, which includes Victor Lind, Per Kleiva and Morten Krohg among others. Lars Ø Ramberg, too, has installed a portion of the Berlin Wall outside of the gallery as part of a special permanent commission by the city of Trondheim, forming an intriguing and poignant counterpoint to the works inside.
INFORMATION
'Kapitalistischer Realismus' runs until 14 February 2016. For more information visit the Trondheim Kunstmuseum website (opens in new tab)
ADDRESS
Trondheim Kunstmuseum Gråmølna
Trenerys gate 9
Nedre Elvehavn
Norway
VIEW GOOGLE MAPS (opens in new tab)