Smut, gore (and more): Vanessa Baird wins the 2015 Lorck Schive Art Prize
Vanessa Baird wins Norway's biggest contemporary art prize with a Technicolor tapestry of smut and gore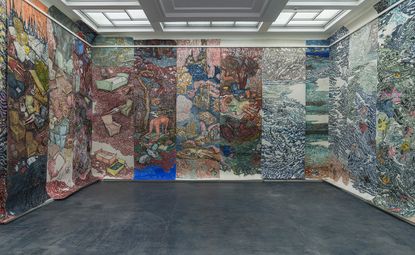 (Image credit: Anders Solberg,Trondheim Kunstmuseum)
Artist Vanessa Baird might just be Norway's answer to Grayson Perry. Her latest work, a room of provocative wall drawings entitled I don't want to be anywhere, but here I am, is a technicolour tapestry of smut and gore, with subject matter and scenery running the gamut of entrails and furniture to refugees lost at sea. It's intriguing and repulsive all at once – and the judges of the 2015 Lorck Schive Art Prize seem to agree, having just awarded Baird this year's NOK 500,000 ($60,000) award.

Currently on show at the Trondheim Kunstmuseum, the Lorck Schive Art Prize exhibition includes works by Baird and fellow finalists Ane Hjort Guttu, Jana Winderen and Snorre Ytterstad. Although still in its relative infancy – this year is only the second edition – the Lorck Schive Art Prize is nonetheless Norway's biggest contemporary art award.

Among the finalists' works, Winderen presented an immersive (if not particularly gripping) sound installation, The Wanderer, made from hydrophone recordings taken in the Atlantic Ocean. Meanwhile, Guttu's film, Time Passes, traces a student who opts to sit next to a beggar as part of an art project – a biting commentary on the role of art and the artist within political systems – while Ytterstad's installation Wires and Strings comments on Europe's refugee crisis.

But it was Baird's frenetic mural that prevailed, its grotesqueness defiling the pristine gallery space while at the same time serving as the perfect companion piece to Gustav Vigeland's monumental plaster relief Hell, permanently installed in the same room.

One portion of the mural contains bears an uncanny resemblance to a widely circulated photograph of a drowned Syrian child – entirely coincidental, Baird explains, as the work was created before the tragic image went viral, but poignant nonetheless. Scenes of the sea, which the artist created first, eventually give way to eerie domestic situations. Here, demented fairytale motifs echo her previous works, which have touched on everything from lycanthropy to the Brothers Grimm.

Held biennially, the Lorck Schive Art Prize comprises a shortlist of four finalists whittled down from ten artists, compiled by the Arts Council Norway, Trondheim Kunstmuseum, the Norwegian Curator's Association and the Norwegian Critics Association. This year's international jury – Lithuanian curator Raimundas Malašauskas, Norwegian artist Eline Mugaas and Ikon Gallery director Jonathan Watkins – tapped Baird for the top prize, citing her unabashed frankness as a factor, although all four finalists received a substantial stipend towards creating the work for the exhibition.
INFORMATION
The Lorck Schive Art Prize 2015 exhibition is on view until 28 February 2016. For more information, visit Trondheim Kunstmuseum's website (opens in new tab)
ADDRESS
Trondheim Kunstmuseum
Bispegata 7b
7013 Trondheim
VIEW GOOGLE MAPS (opens in new tab)