In memoriam: John Giorno (1936-2019)
The performance artist, poet and AIDS activist has died aged 82 at his Lower Manhattan home in New York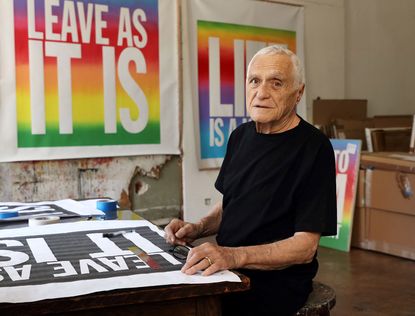 (Image credit: Marco Anelli)
Known for his starring role in Andy Warhol's film Sleep, John Giorno passed away on 11 October after suffering a heart attack, it was confirmed by his husband, the Swiss artist Ugo Rondinone. Over his 50-year career, the artist's practice expanded beyond poetry to encompass film, painting, sound installation and sculpture.

Rondinone curated Giorno's first retrospective, staged by the Palais de Tokyo in Paris in 2015. More recently, Giorno created an augmented reality public artwork for Apple's [AR]T Walk project, while last month New York gallery Sperone Westwater opened its first show of work by Giorno (running until 26 October), including new text paintings, watercolours, and for the first time in the US, bluestone sculptures carved with poetic phrases.
Giorno, who was born in 1936, spent his childhood between Brooklyn and Long Island, the son of Italian-American immigrants whose ancestors can be traced back to Puglia nobility. His father, Amadeo Giorno, ran a clothing company in which his mother, Nancy Garbarino, worked as a designer. Giorno was raised Catholic, and was quoted as saying he came to terms with being gay after realising he was attracted to male priests while at Sunday Mass with his parents.

While in his early twenties, Giorno briefly worked in New York City as a stockbroker. But, in 1962 he met Warhol during the artist's first New York solo pop art exhibition at Eleanor Ward's Stable Gallery. The pair quickly developed an intense romantic relationship over the course of the next two years, during which they lived together on and off. Warhol's film, made the next year at their flat and shot on a Bolex camera fixed on a tripod, lasted for more than five hours, capturing the 26-year-old Giorno's naked body as it rested in the depths of sleep. Warhol made the film after finding inspiration in Renaissance depictions of Jesus Christ.

Through Warhol, Giorno became friends with the writer William S Burroughs whose circle included Beatnik poets Allen Ginsberg, Lucien Carr and Neal Cassady. He also met that other icon of the pop art movement, Robert Rauschenberg. Later, he and Rauschenberg would also become lovers. Giorno's primary medium of interest was poetry. He was inspired by Warhol, Rauschenberg and other doyens of The Factory too, in poetry as in art, finding creative inspiration in everyday objects, and using new technology to explore ways to reach out to audiences beyond the spheres of art and literature.
With this in mind, he founded Giorno Poetry Systems, a non-profit foundation which in 1968 launched Dial-A-Poem, a public artwork comprising six phone lines connected to answering machines housed at the Architectural League on Manhattan's Upper East Side. Anyone could (and still can) call the number, at any time, and hear, from the end of the line, the voices of Ginsberg, Rauschenberg, Laurie Anderson, Philip Glass, Patti Smith and Robert Mapplethorpe as they read their luminous poetry.

In an era when being gay was not yet an accepted lifestyle – even in New York – the content of Dial-A-Poem was often explicitly sexual and homoerotic in content, not least with Giorno's own celebration of queer sexuality, 1964's Pornographic Poem. Millions of people rang in. Two years later, in 1970, Dial-A-Poem was prominently featured in curator Kynaston McShine's watershed exhibition 'Information' at MoMA. Giorno said at the time: 'Using the telephone as a new media, I wanted to expand our conception of art and expose poetry to a public who would not otherwise be responsive to it. Also, much poetry is meant to be heard, not merely read.'

Giorno lived through the AIDS crisis that laid waste to the gay community of New York in the mid-1980s, which saw the community aggressively ostracised even further to the margins of society when little was known of the disease. After losing many of his own friends, Giorno founded the AIDS Treatment Project in 1984, a charity that gave direct financial and other support to individuals with AIDS. The charity continues its work for AIDS victims today. What's more, Dial-A-Poem remains in operation. So, in Giorno's memory, if you're ever in need of sex, passion and beauty spoken down the phone, just call 641-793-8122.
INFORMATION