Jeff Koons: Popeye series exhibition, London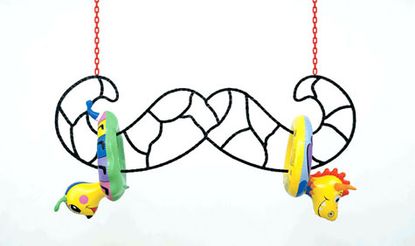 (Image credit: Jeff Koons)
'The spinach is the art,' says Jeff Koons in a press conference this morning, attempting to explain his latest collection of work, the Popeye Series, which goes on show at the Serpentine gallery (opens in new tab) from Thursday 2nd July.
See more of Koons' works on show at London's Serpentine gallery (opens in new tab)
Whether the New York-based artist and former guest editor of Wallpaper*, is saying that art is a source of supernormal strength in general or merely to him is perhaps unclear in this statement, but either way, if this show is anything to go by, Koons is still going from strength to strength.
His first ever solo show in the UK in a public gallery, the exhibition is a combination of loans as well as some brand new pieces. Kitsch, bold, surreal and full of bizarre combinations of everyday objects, cartoon imagery, art-historical references and children's toys, this is signature Koons – just the way we like it.
Inflatable toys, which have appeared in his work since the late 1970s, make an appearance once again, this time juxtaposed with everyday objects such as rubbish bins and plastic chairs. And while they bear an uncanny resemblance to the plastic toy they are based on, are in fact cast in aluminium and painted.
'Inflatables are a symbol of optimism,' he explains. 'We are ourselves inflatables full of air. Every time we take a breath we show we are alive and when we exhale it is a symbol of death. Inflatables therefore are in a permanent state of optimism.'
The paintings are complex and layered compositions that combine disparate images both found and created by Koons, including most prominently the recognisable figures of Popeye and Olive Oyl. Apart from perhaps the fact that Popeye is a character conceived during the Great Depression and therefore a fitting character to rediscover and explore now, this show doesn't break any current taboos or step on new ground, but when it comes to Koons, we wouldn't have it any other way.
ADDRESS
Kensington Gardens
London W2 3XA
VIEW GOOGLE MAPS (opens in new tab)
Harriet Lloyd-Smith is the Arts Editor of Wallpaper*, responsible for the art pages across digital and print, including profiles, exhibition reviews, and contemporary art collaborations. She started at Wallpaper* in 2017 and has written for leading contemporary art publications, auction houses and arts charities, and lectured on review writing and art journalism. When she's not writing about art, she's making her own.