Art Basel Miami Beach 2013: The Florida fair steps out of the shadows of its Swiss sibling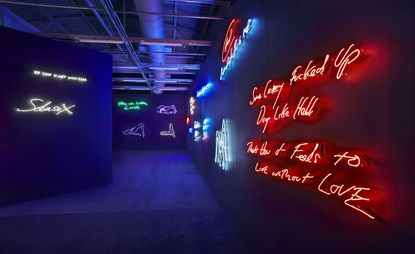 (Image credit: Press)
Inflatable Swiss chalets, huge easter eggs and bare-breasted women beating resin blocks in a public park. It's the first week of December, and once again in Miami, the art fair has come to town, with this year activities neatly bookended in the north of the city by a show at MOCA of Tracey Emin's neon works (opens in new tab) - 67 created over 20 years - called Angel Without You and in the south by a retrospective exhibition of Ai Weiwei's work (opens in new tab) at the newly opened, Herzog & de Meuron-designed Pérez Art Museum (opens in new tab).

Emin's archive of chaotically scrawled and spelt slogans - in a lofty blacked-out space - read like illuminated scribblings on a toilet wall. From inanities such as 'Is Legal Sex Anal?' and 'Is Anal Sex Legal?', to moments of beauty ('Love happens - like lightning') and self-knowledge ('I know, I know, I know' - crossed out three times), it's Emin in her best light.

Weiwei's politics often focus on the billions of Chinese who labour thanklessly in the creation of their country. At PAMM an enormous sculpture made of shiny metal bicycle wheels (a nod to both Duchamp and the only transport available to many working Chinese) has the feel of a war memorial for workers, recognising all those subjugated by the system.

Between these two poles, the business of the fair has gone along briskly, dealers having upped their game with some fighting work. (Miami is no longer the funsome little sister of June's Art Basel but a more serious player in its own right, particularly with its geographical attraction for the Latin American market.)

Gagosian's big gun is the Jeff Koons showstopper 'Baroque Egg with Bow', in scintillating turquoise and hot pink (1994-2008), a massive bundle of symbolism (from new birth to a stealthy restraint, suggested by the big bravura ribbon). At Sadie Coles, Sarah Lucas's 'Tit' chair (2012) - entirely 'upholstered' in stuffed stockings that pop up like perky breasts - is a ribald piece of feminism, poking particularly apposite fun at a Miami audience, where enhancements come as standard. And at Gavin Brown's Enterprise, Martin Creed has constructed an elegant pyramid of bog-standard toilet rolls. It isn't ironic - more an act of transformation of this prerequisite of contemporary life into a perfect architectural component.

Other ways to get noticed include the booth of Neugerriemschneider, which Jorge Pardo has turned into a lush domestic space, lined with cheap fabrics more usually used to make Mexican pinafores (Pardo, who is Cuban, now lives in Merida). Everything is for sale, while other artists' work is encased in the shelving system he has created around the outside of the stand. And at Marianne Boesky, Roxie Paine's massive moving neon piece of a man being knocked down and getting back up could hardly be missed. 'I think it's how artists feel everyday,' says Boesky.

Beyond the Convention Centre, projects take on a more expansive form. LA artist Ry Rocklen has created an art bar (opens in new tab), sponsored by Absolut, turning a patch of ground by the W Hotel into a basketball court, filled with chess and ping pong tables created from trophies and trophy parts, a comment, perhaps on the winners and losers that an overly competitive art market now creates.

Another large-scale installation came in the inflatable form of a Swiss-style chalet. Perched over the water at the Miami Marina Stadium, its polyurethane skin gently heating in the Florida sun, it is the creation of French artist duo Kolkoz for Swiss watch company Audemar Piguet. 'We love clichés and we love Pop,' say the pair. Indeed.