The dissolving mirages of photographer Jack Davison
After a time-honoured road-trip across America, the young artist from Essex has quickly emerged as one of the leading portrait photographers in the UK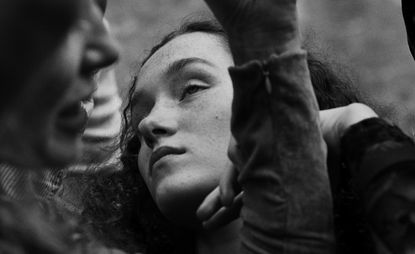 (Image credit: Jack Davison)
Wallpaper* Newsletter
Receive our daily digest of inspiration, escapism and design stories from around the world direct to your inbox
Thank you for signing up to Wallpaper. You will receive a verification email shortly.
There was a problem. Please refresh the page and try again.
Jack Davison graduated from university in 2012. He worked for six months as a labourer on a building site near his parent's home in rural Essex, and then, with the money banked, set out on that most time-honoured of photographic journeys. He flew to America and drove for 10,000 miles, from sea to shining sea.

In doing so, he traversed 26 states, taking photograph after photograph in each one – homeless old men, street hoppers, marginalised youths, tough guys, bag ladies, skaters, hipsters, mods and suits. On his return to London, he selected a portrait from each state and set to work editing them. The resulting portraits, each intensely framed and lit, both intimate and oblique, came to life in silky greys and eggshell whites and petrol blacks. Davison had his first major body of work – 26 States.

Speaking today, it's clear how important that trip around America was for Davison. He met and learnt from a range of older photographers in America, including his now wife, Agnes. It's here he learnt to use film as well as digital. The work created for 26 States varies from film and digital, from more formal and classical portraiture to stick-'em-up street shots. He caught geometric cityscapes, carefully composed still lifes, and, with the judicious use of reflections and slow exposures, strange and compelling abstract compositions, in which an eye or a mouth can float discombobulated from the curlicues of smoke, or be distorted through a discarded piece of Perspex he found beneath his feet, or be visible through the shimmering water found on the pavement.
Davison's family dog is called Dali, named after his favourite artist as a child. The influence of the Spanish surrealist and his great collaborator, Man Ray, are present in Davison's portraiture – the way he'll create a ghostly repetition of a face through an exposure, or break and reassemble a portrait by focusing on the jagged reflections of broken glass. But equally, he looked carefully at more staid photographers. He genuflected to Elliot Erwitt's stately, reverent portraits of strangers, and, for his colourful and carefully composed cityscapes, he looked to the cinematic great of street photography, Saul Leiter.

As he prepares to launch his first monograph, simply called Photographs, it's fair to say Davison has become one of the leading portraitists working in the UK, across both the fine-art, editorial and commercial sectors – all at the age of 28. This hasn't happened by accident. Davison hustled hard on his return to London. He made sure to show 26 States, in person, to the gatekeepers of the photography world – the magazine editors, the photography agents, the commercial agencies. Five years later, and he's represented by Mini-Title, shoots for clients like Hermès, Burberry, Financial Times, Vogue, AnOther and Double, and gained his first solo exhibition, 'Revisiting Pictures', at Amsterdam's Foam museum in 2016.
Amid this range of accolades, one client stands out. Davison is now a regular photographer for The New York Times Magazine. The old grey lady's photography editor, Kathy Ryan, recently described him as 'reinvigorating the art of magazine portraiture'. Ryan has put her money where her mouth is, commissioning Davison to shoot the cover story for the magazine's LA Noir Great Performers issue. Davison had, at that point, only had the experience of shooting one actor for an editorial commission. Now, over the space of a few short days in New York, he had the likes of Denzel Washington and Isabelle Huppert, along with the breakthrough stars of that cinematic year. All were lined up and ready to enter his studio, and he had to find a way to animate each one in his own style.

Photographs is published by Loose Joints, an independent photography publishing company ran by Lewis Chaplin, formerly of Copeland Book Market, and the artist Sarah Piegay Espenon. The pair say Davison has the ability to 'excavate the surreal and sensual from the fabric of daily life... oscillating from crisp, sharp details to dissolving mirages'. 'The book indistinguishably shifts from staged, meticulous editorial setups to simple everyday occurrences,' they write, 'infused with mystery and depth.'
INFORMATION
Photographs, £40, published by Loose Joints. For more information, visit Jack Davison's website
Receive our daily digest of inspiration, escapism and design stories from around the world direct to your inbox