Installations by Everyday Workshop for Wolff Olins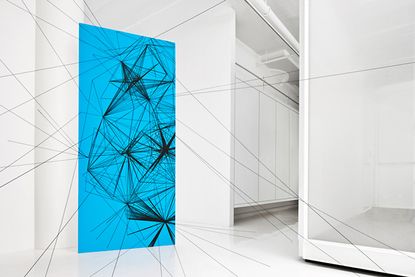 (Image credit: TBC)
In the post-Mad Men world, success requires more than a big idea and a Madison Avenue campaign. Having come of age in the more innocent 1960s and faced the technological revolution head on, brand consultancy Wolff Olins (opens in new tab) knows this better than most. Its latest report, 'Game Changers', outlines the five characteristics today's businesses need to adopt in order to make strides. The title refers to those corporations - Apple (opens in new tab), PayPal (opens in new tab) and Nike (opens in new tab), to name a few - that invested in the five game-changing behaviours with outstanding results.

Helping their clients become game-changers is Wolff Olins' core business, so the London office recently underwent a vibrant makeover to reflect that. It hired the young ad and art-direction agency Everyday Workshop (opens in new tab) to create a number of in-house installations that, abstractly, convey the five key attributes to 21st-century success: 'purposeful', 'useful', 'experimental', 'boundaryless' and 'value-creative'.

The Day-Glo graphics - overseen by Everyday founder (and former Wallpaper* Bespoke art director) Andrew Wren - are definitively 21st century. One wall displays a 2D mural of overlapping spheres that literally burst out of the picture and hover over the office. This is meant to convey 'boundaryless-ness', the need for companies to shift from being insular to being 'constellations' (like Amazon (opens in new tab), for example) that collaborate with would-be competitors for wider success.

'Experimental' is represented by a mural of multi-faceted pyramids overlooking lengths of neon tubing, laid in paths along the floor. Evolution, this is meant to communicate, depends on trial and error and acceptance of failure.

The new graphics make the five tenets impossible to avoid. Are they experimental? Absolutely? Are they purposeful? Useful? Boundaryless? Value-creative? Let's just say they carry the message that these are people who practice what they preach. And that, these days, is a game-changer.