13 photographers shed light on creation in isolation via Instagram
Whether it's artfully arranging household objects or delving into the archives, Wallpaper's network of photographers are proving that even when the world's shutters are down, creativity is still very much at large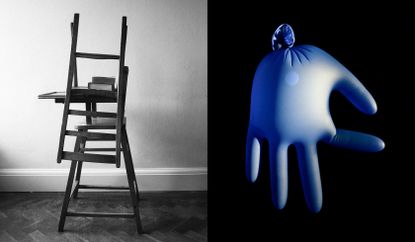 (Image credit: TBC)
Documenting everything from tiered avocados to increasingly-sought-after loo roll, latex gloves to tin-can towers, these global photographers are turning their lenses inwards to share intimate, resourceful and often timely new visions of creative life in social isolation.
'Having been limited to my home, less space, equipment and props has forced me to experiment more with little. I have a passion for objects, especially for everyday life objects, so I spend hours every week to find new ones'
'My home is my studio. Here I have the camera, the lights and enough magazines and books to die reading'
'The coronavirus is already a historical fact. I found it fascinating the way in which banal objects change status as they become scarce. Like a work of art, its value is often enhanced by a contextualised general interest'
'Creating work during these times gives a nice, welcome break from watching the news. It allows me to do what I love to do: record, document, remember'
'The moments when I feel like I've been able to be a good mother and a passable photographer at the same time are few and far between...I hope over the coming weeks and months this is one of the things that becomes the "new normal"'
'Everything being so fragile, I came to the conclusion that the only solid and unquestionable things I can count on are love and creation. I can shoot, whatever comes. I'll always be able to rely on that, which makes me love taking pictures even more. Shooting is my own citadel'
'The restrictions have been kind of freeing if that makes sense. It forces you to do more with less'
'Making something out of pure "nothingness" really brought back the notion that nothing else really matters but creation rooted from doing what we love. And "creation" is creating pretty much anything at all'
'I feel a certain relief, it's like it's okay to mess around, try and not take yourself too serious, go for something new or revisit something old. Just keep sane by keep doing fun stuff I guess'
'So often we spend all our time making photographs that looking back, especially as primarily a studio photographer, is a luxury we don't afford ourselves. It's strange that in crisis we have that time'
'You can discover other sides in your work, think differently and distance yourself for a bit from that you're familiar with. Now there is no other choice and it's in a way the "perfect" time'
'Weirdly lockdown seems to be the perfect conditions for me to create ideas. I make most of my work whilst riding the fine line between intense boredom and weird experiments normally so more time to potter is a positive'
'Right now we see everything through a certain filter that makes pretty normal situations seem very differently: moments of hugging and kissing, places crowded with people and hands touching things'
Harriet Lloyd-Smith is the Arts Editor of Wallpaper*, responsible for the art pages across digital and print, including profiles, exhibition reviews, and contemporary art collaborations. She started at Wallpaper* in 2017 and has written for leading contemporary art publications, auction houses and arts charities, and lectured on review writing and art journalism. When she's not writing about art, she's making her own.