In memoriam: Luchita Hurtado (1920 – 2020)
The Venezuelan-born artist, who took the art world by storm in her 90s, has died aged 99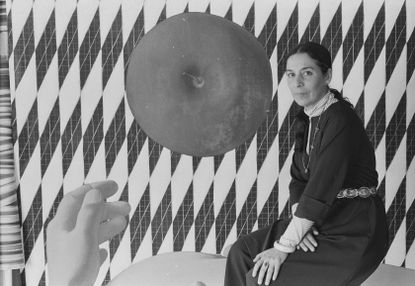 (Image credit: Matt Mullican)
Wallpaper* Newsletter
Receive our daily digest of inspiration, escapism and design stories from around the world direct to your inbox
Thank you for signing up to Wallpaper. You will receive a verification email shortly.
There was a problem. Please refresh the page and try again.
Luchita Hurtado passed away on 13 August at her home in Santa Monica, California. She would have celebrated her 100th birthday in October.

Born in 1920 in Maiquetía, Venezuela, Hurtado spent the last seven decades investigating notions of universality and transcendence through a playful and ever-evolving practice. Ranging from abstraction and mysticism to landscape and the body, her experimental work has always aligned with important moments of her life.

Even though she spent most of her career away from the spotlight, the artist initially started to engage with paint in her teenage years: after immigrating to New York in 1928, she studied painting at the Art Students League. Her early work was abstract and colourful, mainly consisting of surrealist landscapes and tribal figures. At the time, Hurtado was associated with the geometric abstraction movement, and identified the canvas as a medium for intimate meditations on humanity, the cosmos, and nature.
In the early 1940s, Hurtado joined Dynaton, an international network of painters, writers, and intellectuals with whom she would regularly travel across the US and Mexico. The various styles she embraced spoke of her own experiences, as well as the places she visited: everywhere she went, the artist would draw on different values and movements, and adapt her practice accordingly.

Hurtado first presented her work in 1958, while taking part of a group show at the art centre in La Jolla in California. In the years that followed, she travelled regularly between Los Angeles and Taos, a small town in New Mexico. This peripatetic period saw a drastic shift in her creative process: highly influenced by the social movements that characterised the 1960s, she decided to leave behind abstraction to focus on producing naturalistic and figurative work. Among others, the artist developed a keen interest in the liberation of women, and gradually explored the female form in her work. This culminated in her series of contemplative self-portraits – the 'I am' paintings – in which she provides a personal and assertive perspective on femininity, while unveiling various aspects of sexuality through an intelligent selection of raw metaphors.
Following this series, Hurtado produced a range of surrealist landscapes wherein the human and face and body takes on the shape of natural elements such as mountains and sand dunes. These works emphasise the connection between the body and the natural environment, a recurring theme for the artist.

The past few years were significant for Hurtado's career: in 2018, her work was presented at the Hammer's biennial exhibition, alongside installations by 31 other artists. A few months later, she was the subject of a solo retrospective at Serpentine Sackler Gallery in London, titled 'I Live I Die I Will Be Reborn', which articulated a fierce love of the planet and an urgent call to fight climate change. The exhibition travelled to LACMA in early 2020.

'We are close to committing suicide. This is not just a story, this is a matter of fact,' Hurtado said of her environmentalism to the Financial Times last year . 'There are far more species leaving than there are arriving, it's all unbalanced. I don't think I'd like it to be the end of the world, but there is a real danger. It's up to us all.'
Receive our daily digest of inspiration, escapism and design stories from around the world direct to your inbox