Honor Titus, punk band frontman-turned-painter: 'jazz is the catalyst for everything'
Punk band frontman-turned-acclaimed painter Honor Titus riffs on the everyday to capture enigmatic scenes. We meet the artist, one of five contemporary creatives recently spotlighted by Wallpaper* guest editor Kelly Wearstler, ahead of his solo show in London this autumn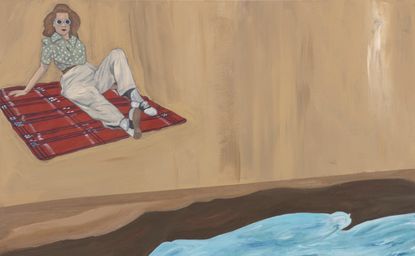 (Image credit: TBC)
Sitting down to write about Honor Titus – one of five contemporary creatives spotlighted by Wallpaper* guest editor Kelly Wearstler in her October 2022 issue takeover – scrolling through images and recalling the instances I have pondered on his work, I feel the immediate compulsion to play jazz. 'I listen to jazz because it makes me feel good. Jazz is the catalyst not only for my work, but for everything,' he tells me later when I mention this. This much is clear.
Before transfixing the art world with his flat planes of colour, Titus was the frontman of hardcore punk band Cerebral Ballzy, which he formed with his friends as a teen. Music is in Titus' genes. His luminous tones captured within thin black lines give musical drama to his faceless figures.
They are stills from recalled memories: a woman rushes down to the subway in white stilettos under a red sky; a penny-loafer-wearing girl swings her legs on a balustrade; a tennis player contorts backwards to meet the racket with the ball with such extremity that she almost skews the perspective in the composition. They are whimsy and wonder, with a touch of knowing irony that makes it endearing. 'My parents danced in front of a piece entitled Brownstone Waltz at my first exhibition in New York,' Titus divulges. Such a scene would work well within his oeuvre.
How does Titus think of his work? Narrative and feeling play heavily into the imagery: 'I'll say that I am quite sentimental in my work. What does the produced picture conjure? How does it make me feel? Said produced picture can be very comparable to a perfect stanza, chapter or tune.'
The work is extremely self-referential, but when has it been possible to strip the lives of the artist from art-making? With Titus, it seeps through with purpose and conscious awareness that putting paint to canvas conjures intimate passages in artists' lives. 'This makes me think of Pierre Bonnard and the Intimist movement, when these fabulous French painters would depict their domestic lives. Both are very personal and also quite anonymous,' says Titus.
'The scenes conveyed are inspirational and inviting; they also make me think of my found photo collection. I love to imagine their struggles, hopes and trysts. Also to admire their beauty in that very specific moment.' Standing in front of his work, we question which page we are on, what moment has been crystallised and why this crystallisation of moments feels unstable. 'I've been told that my work feels as though there is a before and after. I love that.'
In his new series, to be unveiled at his solo exhibition at Timothy Taylor in London in November, Titus looks at traditionalism and class, to make a 'loose yet dynamic take on debutante culture'. He adds, 'to capture coming-of-age youth at parties, in ballrooms, dancing, in gowns and bow ties makes for a good picture. It can be that simple.'
Titus is deftly straightforward yet enigmatic at once. While telling it as it is, he leaves room for flourish and drama. Much like his references: pop, French painters such as Félix Vallotton and Maurice Denis, a fusion of bold, bombastic and intimate, romantic sensibilities. Where does that put Titus? 'I'm just a sentimental Black boy from Brooklyn who has read Evelyn Waugh, played with Black Flag and The Strokes, now dances to Charlie Parker, sat with the works of Édouard Vuillard and Edward Hopper, who is still seeking to learn after all these years.'
INFORMATION
A version of this article appears in the October 2022 Legends Issue of Wallpaper*, available in print, on the Wallpaper* app on Apple iOS, and to subscribers of Apple News +. Subscribe to Wallpaper* today (opens in new tab)