Dark arts: Hiroshi Sugimoto thinks outside the black box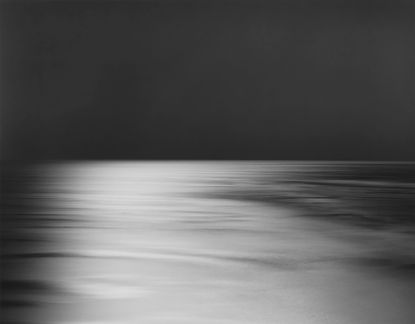 (Image credit: Hiroshi Sugimoto)
Hiroshi Sugimoto's 'Black Box' has opened at Foam in Amsterdam, marking the third and last stop of the Japanese artist's touring retrospective in Europe. Curator Philip Larratt-Smith explains that he opted for a title that was open to interpretation. He defines a black box as 'a camera where light is allowed to come in, printing on the negative to make the image; it can also be a coffin or the black box of an aircraft'. To wit, these multiple readings are present in the works.

Sugimoto was born in Tokyo in 1948 and left for the US to study photography in the 70s. Although surreal, his work is formalistic and uses photographic techniques to explore notions of time, empiricism and metaphysics.
His first series on display, Dioramas, which he started in 1976, uses the camera as a 'time machine'. Experimenting with the technical possibilities of the camera and the potential of black and white photography, he creates 'historic landscapes' – where fantastical images appear so authentic, they force us to question how much we can believe or know to be true.

This concept is developed further in Theaters, where Sugimoto takes movie palaces and drive-in theatres and creates photos with an open shutter, allowing the length of the movie determine the length of exposure. The blank screens are the result of the deliberate overexposure, and illuminate the darkened interiors of the theatres. What appears to be a single instant moment on the photograph is actually an accumulation of time. It is Sugimoto's poetic manifestation of the idea of duration.
In 'Seascapes', Sugimoto wanders into the natural world. Here, primitive shots of the sea and sky allow him to explore the notion of time from another perspective. 'The more I think about the sense of time, the more I think it is probably one of the key factors in how humans became humans – the awareness of the passage of time,' Sugimoto once said in a conversation with Larratt-Smith.

'Sugimoto is a master technician who is using analogue in the age of digital; he is using all the techniques developed over the course of history of photography to make these images,' Larratt-Smith adds. 'One of the things which hold all his works together is a sense of heightened reality. The images are not everyday images, they're not like a snapshot; they are elaborate on a conceptual level, also in formal terms, so the final results are really pristine art objects.'

The five series, comprising 34 large-format works on show here, give an overview of the artist's 40-year career, and also an impression of potential future creations. Each series is open-ended – Sugimoto's limit is really the number of situations he encounters that meet his criteria.
INFORMATION
'Black Box' is on view until 8 March. For more information, visit the Foam website (opens in new tab)
ADDRESS
Foam
Keizersgracht 609
1017 DS Amsterdam
VIEW GOOGLE MAPS (opens in new tab)
Yoko Choy is the China editor at Wallpaper* magazine, where she has contributed for over a decade. Her work has also been featured in numerous Chinese and international publications. As a creative and communications consultant, Yoko has worked with renowned institutions such as Art Basel and Beijing Design Week, as well as brands such as Hermès and Assouline. With dual bases in Hong Kong and Amsterdam, Yoko is an active participant in design awards judging panels and conferences, where she shares her mission of promoting cross-cultural exchange and translating insights from both the Eastern and Western worlds into a common creative language. Yoko is currently working on several exciting projects, including a sustainable lifestyle concept and a book on Chinese contemporary design.