Welsh artist Cerith Wyn Evans on winning the Hepworth Prize for Sculpture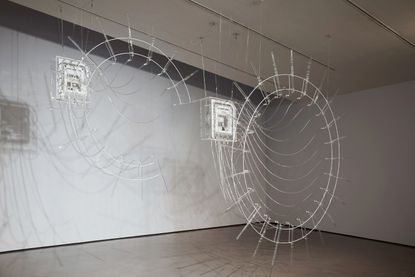 (Image credit: Stuart Whipps)
The winner of the £30,000 biennial Hepworth Prize for Sculpture 2018 has been named as Cerith Wyn Evans: Welsh conceptual artist, filmmaker and contemporary sculpture's golden child.

There's no doubt that Wyn Evans has been basking in his element in recent years. Many will recall his electric intervention in the White Cube's Bermondsey gallery earlier this year, or his highly Instagramable neon occupation of Tate Britain in 2017. Rewind further to the 1980s when he produced two music videos for The Smiths and the short film Degrees of Blindness (starring Tilda Swinton) and it becomes apparent that this is an artist with fingers in most creative pies.

Now he's rooted in sculpture, a discipline he admits he 'used to hate'. 'I've got to try and bring my best into a situation which inspires whoever has the patience to look at it. If those people are youngsters then glory be to God!' he exclaims.
His levitating, site-specific work at the Hepworth Wakefield, Composition for 37 Flutes (in two parts), first coaxes the viewer through sound. Two intersecting glass arcs hold pipes emitting musical notation wavering between harmony and dissonance. A pair of mechanical lungs inhale, exhale and coordinate the instruments through a precisely programmed algorithm. An unnerving, biological timbre evokes the rasp and rhythm of the human respiratory system.

What sets this work apart is its bond with the building. It breathes – not just through Wyn Evans' intricately crafted organism – but also through the pumps and pipes of architect David Chipperfield's cacophonous concrete museum. This is a piece that occupies the eyes, ears and personal space of consenting viewers alongside the arteries of the building itself.

'It [the prize] means nothing, but I'm a buddhist you see,' he said shortly after collecting his award. 'Raising awareness is a different issue. I want to show people that I have a certain compassion for the world, but the world is empty and meaningless and the universe doesn't give a shit about us.'
The other nominated artists – Michael Dean, Mona Hatoum, Philip Lai and Magali Reus – have each generated distinctive and compelling work, carving out their own corner of sculptural territory.

Dean's Of Or for LOL is meticulously organised chaos. The perimeter of the space is lined with drooping incident tape that reads simply: 'sorry'. Within the main composition, the artist channels 'moments of intensity' through building materials, litter and a mound of pennies totalling a three-day emergency food bank allowance for a family of four. In any case, there doesn't appear to be a great deal to 'laugh out loud' about.

Hatoum offers up the breadth of her deft material ability, marrying mundane objectivity, juxtaposition and upsurges of violence. Her globe Hot Spot, perched on a head height pedestal, outlines the continents in pulsating red neon, accompanied by a piercing electrical hum. In a modestly sized steel cabinet, the artist's Murano glassblown sculptures – delicate and regal – first appear to be perfume bottles but are in fact casts of hand grenades; a sculpture both exquisite and ferocious.

Meanwhile, Lai stages domesticity and mass production as poetry, or as he puts, it, of an 'absurd expenditure of labour'. His new untitled work comprising wall-mounted washing up bowls soiled with concrete appear as both tools to create and the creation itself. His 2016 Guest loves host in a way like no other, further conveys themes of 'home' in a seemingly functional and precise brushed aluminium kitchen island.

Dutch artist Reus presents new works from her complex Sentinel series. Sculptures reminiscent of the whimsical contraptions of Heath Robinson are twisted into contemporary contexts through objects resembling fire hoses, hospital equipment and metal appendages. These articles on the cusp of functionality are warped until rendered obsolete. Another body of new work, Dearest explores romantic narratives through 'ladders' personified through props like hats and bottles.

The 2018 judging panel comprised Sarah Brown, Leeds Art Gallery senior curator; Martin Clark, Camden Arts Centre director; Margot Heller OBE, South London Gallery director; and Helen Legg, Tate Liverpool director. The prize was chaired by The Hepworth Wakefield director Simon Wallis OBE. The winner was picked from a shortlist of UK-based artists of different ages, at different stages of their careers. Wyn Evans follows inaugural recipient Helen Marten in 2016.

Visitors to the exhibition will have the opportunity to vote for their own best in show (opens in new tab), with the winner announced online in January. All five artists will exhibit at The Hepworth Wakefield until 20 January 2019.
INFORMATION
The Hepworth Prize for Sculpture exhibition is on view until 20 January 2019. For more information, visit the Hepworth Wakefield website (opens in new tab)
ADDRESS
The Hepworth Wakefield
Gallery Walk
Wakefield WF1 5AW
Harriet Lloyd-Smith is the Arts Editor of Wallpaper*, responsible for the art pages across digital and print, including profiles, exhibition reviews, and contemporary art collaborations. She started at Wallpaper* in 2017 and has written for leading contemporary art publications, auction houses and arts charities, and lectured on review writing and art journalism. When she's not writing about art, she's making her own.