Last chance to see: Helsinki Biennial 2021 brings art and sustainability to Vallisaari
Running until 26 September 2021, the Helsinki Biennial on Vallisaari island combines world-class art, eco-awareness, and striking surroundings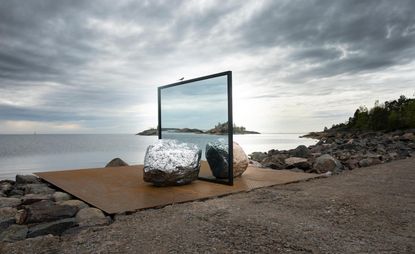 (Image credit: Maija Toivanen)
Wallpaper* Newsletter
Receive our daily digest of inspiration, escapism and design stories from around the world direct to your inbox
Thank you for signing up to Wallpaper. You will receive a verification email shortly.
There was a problem. Please refresh the page and try again.
The inaugural Helsinki Biennial was more hotly anticipated than most. Due to make a bold entrance on the art calendar in 2020, it was pegged as an eco-aware alternative to the usual carbon-diffusing biennial format.
But like many art events of 2020, it fell victim to postponement as the world grappled with the onset of the pandemic. Despite a turbulent start, this biennial with a twist has bounced back with zest. Titled 'The Same Sea' and curated by Pirkko Siitari and Taru Tappola, the biennial brings together 41 Finnish and international artists and artist collectives. Three-quarters of the work comprises new commissions and site-specific installations that engage directly with Vallisaari's cultural history, geopolitics and rich biodiversity.
'After years in the making, we are thrilled to finally open the biennial to our audiences and reveal this outstanding exhibition.' says Maija Tanninen-Mattila, director of the Helsinki Biennial and Helsinki Art Museum (HAM). 'We are indebted to all our team, collaborators, and especially our artists, who have worked tirelessly to make it happen.'
A moment in history for Helsinki
The Helsinki Biennial 2021 opened on Helsinki Day (12 June), marking the date that the city was founded, and will run until 26 September. Vallisaari island, a 15-minute boat ride from the centre of Helsinki, harbours its own history and relationship with ecology. The island has played host to seal hunters, seafarers, pilots, residents of the neighbouring islands, Russian military personnel and Finnish Defence Forces personnel and their families. The last remaining inhabitants left the island in 1996, and the site lay closed off until spring 2016. Though humans' occupation of Vallisaari was relatively fleeting, the island still bears battle scars. At the beginning of the 20th century, almost all its trees had been felled, and explosions and construction left the island's surface mangled. But it's Vallisaari's rich history and idiosyncrasies that have provided fertile sources of inspiration for the biennial's artists.
Art highlights at the Helsinki Biennial
Though the majority of the action takes place on the Island, some biennial artworks extend to mainland Helsinki. These include Janet Echelman's aerial sculpture 1.78, which will be suspended above the city's central Senate Square in August. At HAM, artist Rirkrit Tiravanija and Finnish food visionary Antto Melasniemi will present an installation and one-week event in collaboration with furniture company Artek. Radical German artist Katharina Grosse's work will span both the island and mainland. At HAM she will stage her first solo exhibition in Finland and has also created a vibrant and transient new site-specific painting that sweeps across the island's old wooden schoolhouse and the surrounding foliage.
On Vallisaari, many of the works make use of the island's existing structures. Dafna Maimon has turned a cellar vault into a digestive system, and Tadashi Kawamata has constructed a towering temporary lighthouse made from scrap material found on the island.
Other artists directly confront humanity's relationship with the natural environment. Alicja Kwade's Big Be-Hide is sited on a narrow strip of land connecting Vallisaari with its neighbouring island Kuninkaansaari. Two large stones, one found locally, and another a man-made replica, sit either side of a mirror – a commentary about our position in the universe, and a face-off between natural and artificial forms.
Art with an ecological mission
In 'The Same Sea', each artwork engages with both local and global consequences of human activity but also with alternative views for the future. Helsinki Biennial itself was conceived with a future-orientated vision and a commitment to responsible exhibition-making. 'We want to encourage innovation and responsible action. So we are trying to think and act in new ways,' says Tanninen-Mattila. 'Our team includes an environmental coordinator and we are also using the world's first carbon footprint calculator especially tailored for non-governmental organisations. No art will be left on the island after the event. For example, during the de-installation process in September, all the material from the artworks will either be recycled, reused or collected back by the artists themselves.' Additionally, all work on the island has been executed during the daytime to avoid disrupting the native bat community with artificial lighting.
Social change and social distancing
As the pandemic continues to grip the world, art events have been forced to radically rethink existing patterns of behaviour and create safe experiences for engaging with art. The Helsinki Biennial has implemented a hybrid model, including a comprehensive digital offering for those unable to attend in person. VR experiences, titled Quest Virtual Helsinki – Vallisaari Island, and available from the Oculus store, have been developed to transport global audiences to the heart of the excitement.
Around a third of the artworks on Vallisaari island will be located outdoors, along pathways amidst the flora and fauna of the island, while indoor spaces will implement a carefully controlled visitor flow. 'We are planning the biennial as a hybrid model, which will enable us to open the event in stages if necessary. We have planned various potential scenarios, including periods of closure and flexible openings,' says Tanninen-Mattila.
INFORMATION
Helsinki Biennial 2021: 'The Same Sea', until 26 September 2021, helsinkibiennial.fi
Receive our daily digest of inspiration, escapism and design stories from around the world direct to your inbox