Helsinki Biennial 2023 explores new horizons
Helsinki Biennial 2023, leading visitors on a trail across the city and Vallisaari island, considers new ways forward, for humans and the environment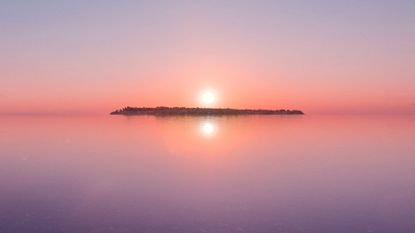 (Image credit: Courtesy Helsinki Biennial)
Wallpaper* Newsletter
Receive our daily digest of inspiration, escapism and design stories from around the world direct to your inbox
Thank you for signing up to Wallpaper. You will receive a verification email shortly.
There was a problem. Please refresh the page and try again.
The skyline sinks low as our ferry presses out beyond Helsinki harbour for Vallisaari, one of some 330 islands scattering the archipelago. Only since 2016 has this former military installation embraced the visiting public. Once a thriving community of 300, the last of its inhabitants left in 1996, casting the island into a slumber, and in turn, its meadows and groves into near-perfect wilderness: still one of the most diverse ecosystems in the archipelago.
This June, Vallisaari embraces not only wildlife-seeking day-trippers, but the 29 artists and collectives and their onlookers of the Helsinki Biennial 2023. Across both island and city centre – including the Helsinki Art Museum, Oodi Library, Botanical Garden, and harbourside – curator Josia Krysa is joined by five curatorial collaborators (Critical Environmental Data, the Museum of Impossible Forms, the TBA21-Academy, ViCCA @ Aalto Arts, and an A.I. Entity).
Helsinki Biennial 2023: 'New Directions May Emerge'
The edition's title – 'New Directions May Emerge' – has been summoned from anthropologist Anna Lowenhaupt Tsing's exhortation to the act of 'noticing'. It's a proposition at once 'very future-oriented and quite optimistic', Krysa insists, concerned with 'practices of worlding: ways to bring worlds together and imagine them otherwise'.
Physical, digital, and 'blended' works (comprising 50 per cent newly commissioned and site-specific works) assemble under three central themes: 'contamination', 'regeneration', and 'agency', threaded with ideas from natural and data science; cosmology and the supernatural; and artificial and non-human intelligences. Together they offer 'possible responses' rather than 'solutions', Krysa distinguishes. For, in the mode of our journey to the island, this is a biennial lapped with liminality and uncertainty: 'the wild, free and resilient edges', says artist Tuula Närhinen, whose studio resides on a neighbouring island, and whose installation The Plastic Horizon (2021-23) surfaces her long-running cleaning operation on Helsinki's fragile seashores.
Within the cool and dark of a Vallisaari gunpowder cellar, Närhinen's vast line-up of plastic bottle caps, toys, straws and other debris radiates as a spectral spectrum of anthropogenic waste. 'Unfortunately,' Närhinen says, 'I am not the only animal attracted to the allure of debris.'
Accompanying thoughts on the contamination of the sea are found in Emilija Škarnulytė's film installation, Hypoxia (co-commissioned with TBA21-Academy): pooling intoxicating images of deep-sea mining, the Nord Stream gas-explosion, and the Lithuanian myth of Jūratė. Škarnulytė grew up close to the Baltic Sea and inherited the aspiration for 'idyllic white sands' she says, but the reality is these waters are some of the most polluted in the world, leeched with military ammunition from the Second World War and the Cold War. Hypoxia – referring to the condition of oxygen-depleted ocean 'dead-zones' – is an act of 'brainstorming sci-fi scenarios', Škarnulyte says. 'But you don't need to search far, these scenarios surround us in daily life.'
It seems we are still searching the island for the promise of the biennial's title. 'Searching': a more desperate pursuit than the poetry of 'noticing'. For artist Lotta Petronella, based on Ruissalo island in the Turku archipelago, to search is to forage – and she dedicates her Vallisaari 'apothecary' to Ilma Lindgreen: the woman who fought and won for the right to roam and forage in Finland in 1914.

Together with artists Sami Tallberg & Lau Nau, Materia Medica of Islands is a sanctuary amongst the eerie military structures of Vallisaari island. Voices of a 'lamenting choir' waft above wooden shelves lined with countless vials – 'Mugwort for dreaming' and 'St Johnswort for melancholy, picked under a July full moon'. On a side wall are hung dozens of frenzied embroideries of moths – species that have been studied on the island as indicators of climate change.
For, to see humans apart from nature is to hold a 'blind spot', insists Sámi artist Matti Aikio. His desolate film piece Oikos (2023), layers monochrome images of reindeer herding with those of encroaching energy production and natural resource extraction. 'My Sámi family history is a history of conflict,' Aikio writes. The landscapes and technologies he juxtaposes are gently coexistent on screen for now, but how they are to reconcile on the land is yet unseen.
When the past butts up against the present, what matters most is the 'newness' of our travel – to prevent old mistakes from being repeated. Sepideh Rahaa's Songs to Earth, Songs to Seeds (2023) attends to the ancient rice paddy culture of her native Northern Iran. Split-screen documentary film runs beside a ceramic urn, strung above with dried rice plants. Beyond the immediate poignancy of the film's rumination on ritual, cultivation and ancestry, Rahaa's work is a cry to cycles of crisis: how farmers are forced by legislation into using toxic fertilisers, further depleting their already stricken lands.
The undulating, fern-lined paths scoured across Vallisaari island offer choice routes of encounter, as do digital works. South Korean web-artist Yehwan Song wields machine-learning technology for Newly Formed (2023), an interactive map drawn from the Helsinki Art Museum collection, revealed as a procession of painterly blobs (or 'portals') that transport the user from one warped canvas 'panorama' to the next.
Blending digital and physical storytelling, Danielle Brathwaite-Shirley's I Can't Take This Step For You (2023), imagines the stories of Black Trans people on Vallisaari, through a series of haunting figure groups rising beside the island footpaths. Brathwaite-Shirley's accompanying 'Web Pilgrimage', meanwhile, promises users to 'bring you closer to the parts of yourself that you hide from others' – not even the whispering island winds will tell.
Whichever path through the biennial map is taken, it seems all routes converge at the Ángel Yōkai Atā, or 'Spirit House of Angels', by artist collective Keiken, sited on the narrow isthmus bridging Vallisaari and neighbouring Kuninkaansaari island. 'I wanted the work to sit towards the end of the narrative,' says Krysa – 'to offer some hope, as something that marks the possible new direction of travel'. Approaching the portal along the water's edge – part lifesize kaleidoscope, part Polly Pocket trinket box – with its glittering reliefs and scattering of gaming widgets – feels close to heaven-bound. It is home for angels 'and all kinds of consciousness', say Keiken. A space 'to just be'.
Helsinki Biennial 2023: New Directions May Emerge, Finland, 11 June – 17 September 2023

helsinkibiennial.fi
Receive our daily digest of inspiration, escapism and design stories from around the world direct to your inbox