Major renovation: Helsinki Art Museum reopens with blockbuster Ai Weiwei show
​The Helsinki Art Museum has reopened after a major renovation with a blockbuster show from Chinese artist Ai Weiwei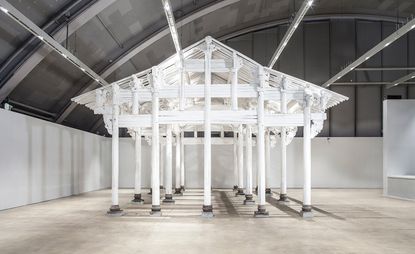 (Image credit: Maija Toivanen)
The Helsinki Art Museum (opens in new tab), housed in the 1930s Tennispalatsi, or Tennis Palace, has reopened after a major renovation with a blockbuster show from Chinese artist Ai Weiwei. The 14-month renovation by local architects Arkkitehdit NRT, including a move into the building's 12-metre high dome, has doubled exhibition and public space to 3,000 sq m. And it is these dome galleries that are playing host to 'Ai Weiwei @ Helsinki', a show which stretches through the artist's early works from the 1980s to two new large scale pieces: White House, a traditional timber Qing Dynasty house, shipped wholesale to Helsinki; and Garbage Container, a large elegant wardrobe of sorts which is really an elegy for five homeless boys from Guizhou Province who died of carbon monoxide poisoning after lighting a fire in a bin to stay warm. Many of the works are in wood, a nod perhaps to Finland's tradition of fine woodworking.

It's been a good summer for Ai Weiwei with rave reviews and long queues for his show at the Royal Academy show in London. The Helsinki show is another triumph for the newly mobile artist.

HAM, as it is known, has a permanent collection of over 9,000 works of Finnish art, almost half of them dotted around local schools, libraries, hospitals and parks. The remodeled museum also includes a new space dedicated to emerging Finish artists. HAM's renovation is part of a wider cultural push in central Helskinki. A new timber-framed Central Library, designed by ALA Architects, is set to open in 2018; as is an entirely underground second branch of the Amos Andersen Art Museum which will be dedicated to experimental and technology-based works.

More controversial is the proposed Helsinki outpost for the Guggenheim. Finalised designs for Europe's third Guggenmheim, by Paris-based Moreau Kusunoki, were revealed this summer. The competition-winning design, a series of charred timber pavilions, has been well-received but there have been reservations about the cost of the new museum, to be covered by the Finnish Government if the plans are approved. The Helsinki City Board will decide whether to give the development the go-ahead later this year.
INFORMATION
Ai Weiwei @ Helsinki will run until 2 February, 2016; www.hamhelsinki.fi (opens in new tab)
ADDRESS
Eteläinen Rautatiekatu 8
00100 Helsinki
View Google Maps (opens in new tab)