Contemporary artworks meet Old Masters at Helsinki's Ateneum
A new show at the Finnish National Gallery, 'Inspiration – Contemporary Art & Classics', contemplates the lingering power of iconic works and creates a powerful dialogue across generations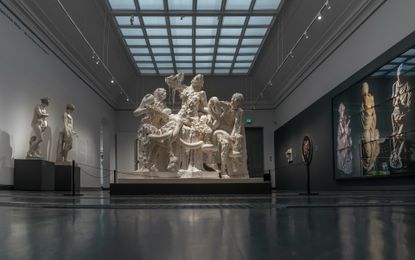 (Image credit: Ola Kolehmainen)
How did specific pieces of European art influence the practice of contemporary artists across the globe? Why do certain artworks benefit from greater popularity than others? And what role have national museums played in defining the leading figures and key works of art history? These are the questions explored in a new show at Helskinki's Ateneum art museum, part of the Finnish National Gallery. Titled 'Inspiration – Contemporary Art & Classics', it presents work by an international group of contemporary artists, alongside masterpieces by the likes of da Vinci, Raphael and Rembrandt.

Originally conceived for the Nationalmuseum in Stockholm by curator James Putnam and museum director Susanna Pettersson, the exhibition had to close down soon after its opening date due to local lockdown measures. Happily, the show has now been reconfigured for Ateneum, led by the museum's director, Marja Sakari, and its chief curator, Sointu Fritze.
Sakari and Fritze drew on Ateneum's collections and archival material, which includes replicas of works by European masters, such as Helene Schjerfbeck's copy of Velázquez's Infanta. 'When Ateneum opened at the end of the 19th century it also housed an art school. At the time teaching methods meant using plaster copies of sculptures from antiquity and commissioning Finnish artists to create copies of old masters, as the cost of acquiring them was prohibitive', explains Sakari. Some of these replicas have since become masterworks in their own right.
Aiming to create a powerful dialogue between the old and the new, the exhibition also presents a series of contemporary pieces, in an edit that emphasises the various ways through which living artists have referenced art history. This includes a commissioned sculpture by Swiss artist Sara Masüger, which portrays the Trojan priest Laocoön, a character from Greek mythology who, along with his sons, was killed by sea serpents sent by the gods. Masüger modeled her work on her own body, and that of her niece, to highlight the vulnerability of human existence, thus altering the initial narrative. 'With many of the works in the exhibition, the themes present in the iconic works are transposed by the artists into a contemporary language without losing the power of the original artworks,' says Sakari.

Mat Collishaw's photographic series Last Meal on Death Row depicts the last meals requested by death row inmates in the US, in a style that bears a striking resemblance to Dutch still-life paintings in the age of Vermeer. Likewise, Marina Abramovic and Ulay's Pieta (Anima Mundi) shows the artists assuming the poses of the Virgin Mary cradling the dead body of Jesus, much like the Michelangelo sculpture housed in St Peter's Basilica in Rome.
By connecting past and present, 'Inspiration' encourages a wider audience to engage with Western classical art. 'If the exhibition encourages people to look again at Old Masters with fresh eyes, I think it will have succeeded,' continues Sakari.

'In difficult times we can find solace in art. It can be comforting to know that while the works in the exhibition were produced centuries apart they reveal the artists' and our shared preoccupations as human beings.'
INFORMATION
'Inspiration – Contemporary Art & Classics' is at Ateneum, part of the Finnish National Gallery. 18 June – 20 September 2020; ateneum.fi
ADDRESS
Kaivokatu 2
00100 Helsinki
Finland
VIEW GOOGLE MAPS (opens in new tab)