Golden Age: 20th century Italian painting takes the spotlight in New York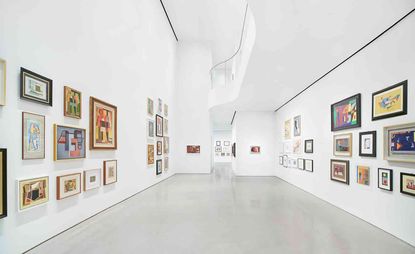 (Image credit: Tom Powel Imaging)
When it comes to 20th century Italian painting, the work of Lucio Fontana instantly springs to mind. But there's a slew of influential artists, who spun out non-figurative work far earlier, with some even predating Kandinsky, to take note of. To elucidate this band of then-revolutionary painters, noted scholar and dealer Gian Enzo Sperone has curated 'Painting in Italy 1910s-1950s: Futurism, Abstraction, Concrete Art', which opened in New York last week. The Sperone Westwater exhibition features more than 100 abstract examples by artists working before, during and after World War II, with some even painting under the country's repressive Fascist regime.

Above all, they turned away from figurative traditions and explored a new visual vocabulary based overwhelmingly on geometric forms, sharp planes and a primary palette. The especially pioneering painters, Sperone points out, includes Giacomo Balla. 'Take Balla's Compenetrazione Iridescente (Study for Iridescent Interpretation) which he painted in 1912, as its totally non-figurative, his approach is truly ahead of his time,' he says.

Sante Monachesi's 1937 Alluminio a luce mobile, which translates as 'light mobile aluminum', are actually two relief panels. 'His raised surfaces are truly revolutionary for their time and predate Lucio Fontana,' says Sperone. Other examples include Alberto Magnelli's trailblazing 1937 'Peinture 336', in which the artist scraped away portions of paints to enhance the texture. 'Magnelli to some degree led the way for Burri,' Sperone comments.
INFORMATION
'Painting in Italy 1910s-1950s: Futurism, Abstraction, Concrete Art' will be open until 23 January

Photography: Tom Powel Imaging
ADDRESS
Sperone Westwater
257 Bowery
New York
VIEW GOOGLE MAPS (opens in new tab)