Gilbert & George on their new art centre in east London: 'We all want to live forever, don't we?'
As the Gilbert & George Centre prepares to open on 1 April 2023, we interview the artist duo on their vision for the space, located in the heart of London's east end and designed by SIRS Architects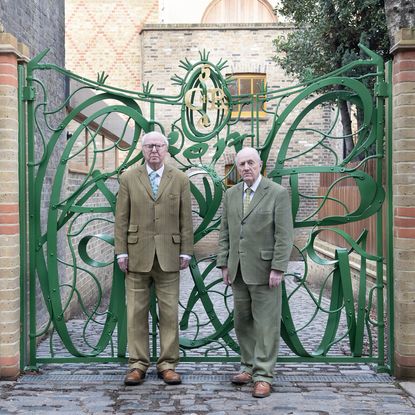 (Image credit: Yu Yigang © Gilbert & George / Courtesy The Gilbert & George Centre)
On 1 April 2023, the legendary, and often controversial art duo Gilbert & George will open the Gilbert & George Centre on Heneage St, in London's Spitalfields. 'It's a global district in some ways. Everyone comes from all over the world, and they want to walk up and down Brick Lane,' say the artists, who explained that finding the site, after many years of searching, was pure luck. 'We didn't know exactly what we wanted, but when we saw this space it was ideal. We like that it's an island of calm in a busy, bustling city.'
The space, a former brewery complex, has been designed by SIRS Architects in collaboration with the artists. Visitors enter via regal gates sinuously outlining the artists' initials into a secluded cobbled courtyard evocative of Gilbert & George's restored Georgian home and studio. Inside, the centre is spread over galleries providing 280 sq m of exhibition space, alongside an outdoor video space.
'Gilbert & George have always thrived on having their voice heard and putting a distinctive stamp on their environment,' says Manuel Irsara, co-founder at SIRS Architects, who sought to preserve and conserve the 19th-century building, at the same time as integrating environmentally conscious features. 'To now create a permanent space of their own to showcase their unrivalled artistic legacy to visitors from across the globe is the ultimate fulfilment of their artistic vision, "art for all".'
As George explains, 'We chose the architect because it's Gilbert's nephew. He knew what we wanted; I think he did an amazing job. We wanted to keep it human, we didn't want an aggressive minimalism.'
And it's this 'art for all' ethos that's at the heart of the duo's concept for the space. 'The vision was for people to see our work [and] have access to our pictures,' they say. 'So if someone arrives in London and loves our art, they'll be somewhere they can see our pictures and won't have to wait for our next gallery or museum show.'
The inaugural exhibition, 'THE PARADISICAL PICTURES', comprises a collection of works from 2019, seen in London for the first time. The works, spanning all three floors of the space, see Gilbert & George submerged in sickly-sweet, garishly coloured organic forms – fruits, flowers and leaves – that are both sumptuous and grotesque; heavenly and hellish. 'We are starting with "THE PARADISICAL PICTURES" because we realise that most people think of paradise as the after party, and we think of this as the pre-cum party,' they said, going on to explain that they believe paradise to be here and now, not after. 'The free world is paradise. We're very privileged to live in the free world. A lot of people worked very hard and suffered and even died to achieve this privileged state that we live in and we like to be conscious of that, we have a debt.'
But given their controversial output, have Gilbert & George always felt they are free to express themselves? 'I think we [were], in some ways,' they say. 'They banned us sometimes, there are some countries where we can't show our pictures, but that's a reminder of how privileged we are we are in the [free] world.'
Gilbert & George explain that the new centre, which is open to the public free of charge, is no place for retrospectives (which the artists believe are better suited to museums); each cycle of shows will focus on a single body of work. Their hope is for the space to become a leading cultural institution in London and a place for research and education on the art of Gilbert & George.
'We're very conscious about how people are changed by culture, by reading books, seeing plays or theatre or ballet or pictures, which is why we don't want to show life or reflect life, we want to form our tomorrows. We believe people will leave seeing the Gilbert & George centre being a little bit different.'
For Gilbert & George, who are aged 79 and 81 respectively, retirement is currently not an option. But what role will the centre play in generations to come? 'No idea, whatever it is, it is. We all want to live forever, don't we?,' say Gilbert & George, who famously do everything together in a strict routine. 'We have a shared sense of purpose, an overdeveloped sense of purpose some would say. We created a living sculpture, which is two people together is an artwork, and we are speaking as two people. We made a success of what everybody all over the world including the animal kingdom tries to do, which is [to be] two. We made an artistic, creative union out of that,' they say. 'We are alone. We don't do anything we don't need to do. The more empty our brain is, the more available we are for more important things. We are filled with far more pictures than we will ever be able to create.'
The Gilbert & George Centre opens on 1 April 2023, 5a Heneage St, London E1 5LJ. gilbertandgeorgecentre.org
Harriet Lloyd-Smith is the Arts Editor of Wallpaper*, responsible for the art pages across digital and print, including profiles, exhibition reviews, and contemporary art collaborations. She started at Wallpaper* in 2017 and has written for leading contemporary art publications, auction houses and arts charities, and lectured on review writing and art journalism. When she's not writing about art, she's making her own.