Above the tree tops: Gaetano Pesce branches out at Design Miami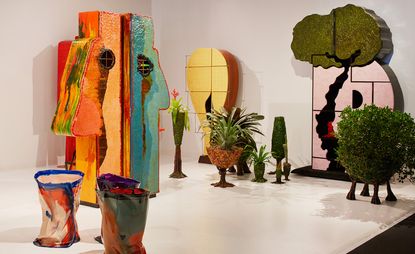 (Image credit: James Harris)
Each year, Miami Art Week seems to start a little bit earlier, and 2016 was no exception. The Setai kicked off the festivities Sunday night with a celebration of the legendary architect and designer Gaetano Pesce, which attracted fellow creative luminaries architect Jean Nouvel and artist Chuck Close. Pesce installed one of his signature tree vases in the middle of the tranquil fountain in The Setai's courtyard. Just as he did in his iconic 'Up Series' chairs, the 76-year-old designer referenced the female form. 'The symbol of the vase is the stomach of the mother with a baby,' explained Pesce.

Pesce continued his Miami Art Week at Design Miami, where New York gallery Salon 94 is presenting a solo exhibition — titled 'Gli Armadi Parlanti' ('The Speaking Cabinets') — of his work through 4 December. The gallery's owner, Jeanne Greenberg Rohatyn, curated the booth. 'It started by visiting Gaetano and seeing that he was incredibly active and making some of the best works that he has made, so it started with the tree vases, and then we worked backwards,' said the gallerist.
Installation view of Pesce's work at the Salon 94 booth.

The tree vases, which were produced this year, were the newest works in the stand, which also showed off a number of Pesce's vintage pieces. Everything about the presentation represented all the elements regularly found in Pesce's work: joy, humour and colour. 'We went through some of his classic cabinets and found the motif of the tree and nature repeated again and again,' said Greenberg Rohatyn, who presented a 2007 tree cabinet that featured one of his first manipulations with paper mâché.

A number of the cabinets featured smiling faces, a nice respite from the current political climate in the US. 'The cabinets, they talk, but they talk because their shape and their form is a form to express things,' explained Pesce.
INFORMATION
Gaetano Pesce's sculptures are on view at the Salon 94 booth until 4 December. For more information, visit the gallery's website
ADDRESS
Design Miami
Meridian Avenue & 19th Street
Miami Beach