Colliding worlds: 'Frank Stella and the Synagogues of Historic Poland'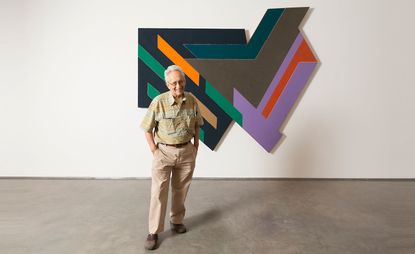 (Image credit: Kristine Larsen)
The Polin Museum in Warsaw has seen a fascinating collison of worlds – of Polish wooden synagogues and modern American art. The institution has opened an exhibition of works by contemporary American artist Frank Stella – on view until 20 June – called, appropriately, 'Frank Stella and the Synagogues of Historic Poland'.

Stella, an iconic figure in the 20th century art world (who worked as a house painter before being discovered), received the National Medal of Arts from US president Barack Obama in 2009, and has been collected by everyone from the Whitney to MoMA. But this specific exhibition takes the insightful tack of exploring how Jewish sacral architecture (that destroyed by Nazis) inspired the painter.

In the exhibition, Stella's Polish Village Series is juxtaposed with its sources of inspiration. In the early 1970s, the artist was captivated and then motivated by a book by Polish architects Maria and Kazimierz Piechotka, entitled Wooden Synagogues, to create a series of large-scale irregular wall constructions, collaged and painted, along with innovative prints, scaled wooden models and precise drawings on the subject. Each of these works was named after a Polish town in which a wooden synagogue had once stood before being destroyed.

Furthermore the exhibition will include some original works by the artist, drawn from international collections. This includes historical architectural drawings and documentary photographs of synagogues taken before the Second World War. Dariusz Stola, the Polin's director, said that the museum is the perfect venue for the works as 'one of its key exhibits is a spectacular, full-scale recreation of a 17th-century painted synagogue' – the very same that inspired Stella's creations.
INFORMATION
'Frank Stella and the Synagogues of Historic Poland' is on view until 20 June. For more information, visit the Polin Museum's website
ADDRESS
Polin Museum
Mordechaja Anielewicza 6
00-157 Warsaw
Daniel Scheffler is a storyteller for The New York Times and others. He has a travel podcast with iHeart Media called Everywhere and a Substack newsletter, Withoutmaps, where he shares all his wild ways. He lives in New York with his husband and their pup.