Form, gesture, feeling: Robert Motherwell retrospective opens at Pearl Lam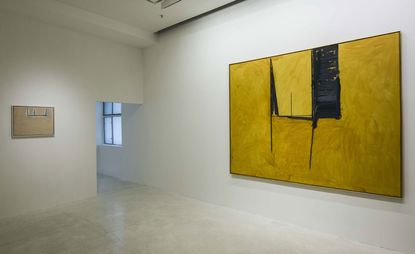 (Image credit: courtesy of the artist and Pearl Lam Galleries)
Pearl Lam Galleries in Hong Kong's Central district is marking the 100th anniversary of the birth of one of America's most influential abstract expressionist artists, Robert Motherwell, with a solo exhibition of fifteen paintings including his Great Wall of China #4 (1971) and In the Studio (1984/1985). Wallpaper* met the eponymous gallerist herself to discuss Motherwell's unique style and why collecting the painter's works (which range from US$100,000 to US$4 million – significantly less than his contemporaries) is such a good investment.

We caught up with Hong Kong art dealer and collector Pearl Lam ahead of the show to find out more...

Wallpaper*: Why Motherwell?
Pearl Lam: I've always admired his work. It is a very natural course to show him after showing Chinese abstract work as he was strongly influenced by Chinese ink brush painting – so his works mark a high point of cross cultural exchange between the East and West. He is also completely undervalued compared to his contemporaries like Mark Rothko, Jackson Pollock, and Willem de Kooning.

How did you select the works?
It is a survey of Motherwell's world showing his work in cycles – like his In Black and White series and collage works – instead of looking at how it developed over the decades. It also offers a good opportunity to review the differences of the roots of Western and Chinese abstract art.

Your gallery often shows collages. What stands out in Motherwell's own work?
I believe it is important to show collages, even though it is very difficult to find a market for it in Asia. It was a very important part of Motherwell's work. Remember, American artists were not making collages at that time, it was more of a European thing. What especially interests me is Motherwell's choice of fragments, the randomness and chance in his work.

Which is your favourite piece?
It is impossible to say which one is the standout piece but I do love the Champagne collage. I wonder who drank it, what celebration it may have marked. I love the intangible marking of history. I also love his calligraphy work. Beside the Sea is a very early example, showing how Motherwell believed the way to capture nature was to imitate it. His gestures imitate the action of the waves against the seawall. I love the energy and spirit. These are deeply biographical works.
ADDRESS
Pearl Lam Galleries
6/F, Pedder Building
12 Pedder Street
Central Hong Kong