Young artists test the limits of photography at Foam Talent's London show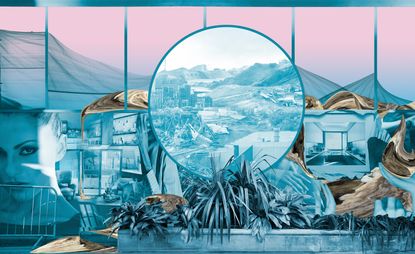 (Image credit: press)
What form can a photograph take in 2017? Don't expect just pictures on walls. 'Every year we are again very curious to see how young talents are experimenting with photography on the very edges of the medium,' says Foam Talent curator Mirjam Kooiman.

Now, Foam has arrived in London to show us photographs not as we know them: camera-less pictures, 3D objects, installations, wallpapers, lightboxes, beamers and projections are among just some of the formats on show at their showcase of 24 artists at Beaconsfield Gallery in Vauxhall.

As well as playing with the physical form of photography, these artists also dismantle its function in relation to places, people space, and time. Among the young photographers (they're all under the age of 35) carving out new ways of seeing is South African artist Nico Krijno, a sculptor and photographer, who's work is 'sculptural in its construction of the very image itself', Kooiman explains. His Sculpture Studies — part of his selected series Fabricated to be Photographed — gently mock both artistic media, assemblages made out of every day detritus, posing proudly for the camera.
[Untitled, 2012-14, by Samuel Gratacap, from the series Empire
Editing and presentation are also the focus of British artist Felicity Hammond. To create Capitol Growth (2015) she took photos of photos — real estate ads, renderings and architectural plans for luxury living — creating a kind of digital impasto which she manipulates with software and prints again on a large-scale, fashioning them into installations.

Where some photographers connect us to reality by complicating our viewing experience, others use documentary methods but distance us from what we think we know: Mexican photographer Sofia Ayarzagoitia almost exclusively shoots people and places in her hometown of Monterrey — but the works are more of self-portrait than a story about what happens in front of the camera.

In parallel, award-winning Instagram star Juno Calypso presents photographs of herself, taken in a love hotel in the US (designed for couples), reflecting more on universal ideals of romance, female fantasy and the industry of love than they reveal about the woman who looks at herself in the mirror.

This, Foam suggests, represents what photography is now: a fusion of techniques, an atmosphere of real and hyperreal, where documentary is fiction and fantasy is truth.
INFORMATION
'Foam Talent' is on view until 18 June 2017. For more information, visit the Foam website (opens in new tab)
ADDRESS
Beaconsfield
22 Newport Street
London SE11 6AY
VIEW GOOGLE MAPS (opens in new tab)
Charlotte Jansen is a journalist and the author of two books on photography, Girl on Girl (2017) and Photography Now (2021). She is commissioning editor at Elephant magazine and has written on contemporary art and culture for The Guardian, the Financial Times, ELLE, the British Journal of Photography, Frieze and Artsy. Jansen is also presenter of Dior Talks podcast series, The Female Gaze.