Isaac Julien's Tate retrospective: multi-screens, 'sonic tapestries' and moments of joy
Artist and filmmaker Isaac Julien's Tate Britain retrospective 'What Freedom Is to Me' questions histories, explores activism, but is also full of joy and beauty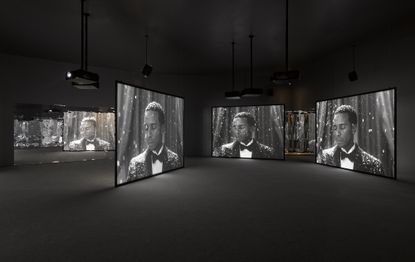 (Image credit: Photo: Jack Hems © Isaac Julien Courtesy the artist and Victoria Miro)
Artist Isaac Julien has opened his first Tate retrospective, covering 40 years of work specialising in film, photography and installation exploring activism, selfhood, how we make histories, knowledge and Black and queer identity.
The first thing you see in the exhibition, which takes its title from a Nina Simone quote, is a timeline of events that most affected the artist throughout his life, starting with his parents' migration from Saint Lucia to the UK in the 1950s. This chronology – which sits opposite one of the earliest works in the show, Territories (1984), and This is Not an AIDS Advertisement (1987) – serves as a baseline for the exhibition, in which we see Julien's work address these same issues as his practice evolves.
Isaac Julien at Tate Britain: 'What Freedom Is to Me'
The show then opens with the artist's most recent work, an inventive multi-channel piece about the life of writer and critic Alain Locke, Once Again… (Statues Never Die) (2022).
'The [curation] has been in close dialogue with Isaac Julien from the outset, and that was something very important to us as curators, that we execute the vision as he conceived it, and I think it happened very organically,' co-curator Isabella Maidment tells Wallpaper*.
Julien's work is so aesthetically rewarding, its beauty is often what dominates your initial experience of it. So the starting and ending of the exhibition with these early works reminds us of the origins of his practice and of the socio-political context in which it was forged.
'Even though I go on to make other works, which perhaps are concerned with different themes […] connected to art and modernism, or migration movements, or the museum itself, they're still connected to these kinds of early works which, for me, have become foundational,' Julien explains.
The exhibition design by Adjaye Associates encourages the viewer to explore the space and walk in and out of the film works, which total about 4.5 hours (Tate also allows re-entry to the exhibition). The approach is in line with a theory of a mobile spectator that the artist has been developing in his practice, pushing the boundaries of how audiences engage with film and installation art. Another dimension to Julien's work is sound, which he says is '50 per cent of the work'. Music plays a huge role in his films, as does the sound design, which adds to their transcendental quality.
'I think we've tried to create this sort of sonic tapestry, which whether it's early work like Territories (1984) emulating scratch music… [or] Lina Bo Bardi - A Marvellous Entanglement (2019), which is about the influence that the Italian architect had on Brazilian and Afro Brazilian culture [but also] the effect Afro Brazilian culture had on the architect. What does it sound like? What does it signify or how does it feel to be in that culture?'
This interconnectedness is palpable throughout the exhibition, from the collaborators with whom Julien (a 2021 Wallpaper* Design Awards judge) has worked throughout his career to the themes that recur via his own timeline; histories and narratives are questioned in a way that informs but never feels didactic. You can learn a lot from these deeply researched works, but you can also experience the joy and the beauty in them and realise, in this life, how important these things are.
Isaac Julien, 'What Freedom Is to Me', Tate Britain, London, 26 April – 20 August 2023