Ellsworth Kelly at 100: a wave of major shows honour the abstract art icon
He taught the world to see in new colours, now Ellsworth Kelly is being celebrated in a series of major shows to mark what would have been his 100th birthday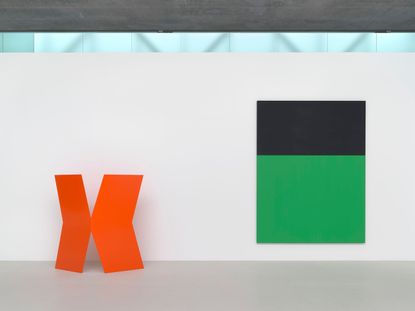 (Image credit: © Ellsworth Kelly Foundation Photo: Ron Amstutz Courtesy: Glenstone Museum, Potomac, Maryland)
American artist Ellsworth Kelly would have turned 100 this month (May 2023). His recipe of hard-edge abstraction, colour field painting and minimalism saw him become one the most definitive painters of an era. His seven-decade legacy is being celebrated in a wave of centennial exhibitions this spring, including at The Museum of Modern Art, New York; Glenstone Museum, Maryland; the Art Institute of Chicago; the Philadelphia Museum of Art; and the Santa Barbara Museum of Art.
Kelly was born in Newburgh, 60 miles north of New York City. When his family relocated to New Jersey, he became absorbed in birdwatching. 'I believe my early interest in nature taught me how to "see",' the artist explained in the introduction to his 2018 Phaidon monograph. He recalled the first time he saw a Redstart, 'a small black bird with a few very bright red marks'.
In 1943, Kelly was drafted for service in the US military. Alongside fellow artists and designers, he served in World War Two The Ghost Army, a top-secret unit formed to dupe the Axis forces with tools of deception, from inflatable tanks to fake radio transmissions. These experiences of subterfuge fuelled his creativity; he became fixated on the space between viewer and artwork, a void in which to absorb and intoxicate, and warp perceptions of space.
In 1948, he moved to Paris, where he drew on the city's architecture and began refining his signature hard-edged abstraction. There, Kelly moved in circles with fellow Americans including John Cage, Merce Cunningham and Alexander Calder. But the market was yet to be enamoured of the Kelly phenomenon; in 1953 the artist was evicted from his Paris studio with a single painting sale under his belt. Despite other trailblazers having paved the way for colour field painting before, such as Carmen Herrera, Kelly was considered an aesthetic anomaly. The world just wasn't accustomed to his flavour of punch.
He retreated to New York, eventually landing his first exhibition in 1956 at Betty Parsons Gallery. Even then, opinions were split as his contemporaries sampled the imagery of mass consumerism, or erupted the darkest facets of their psyches onto canvases. As he recalled at the time: 'People didn't really come to the show much. I felt embarrassed, I had to apologise for using bright colours!'
Soon, no apologies were needed as the world changed its palette and welcomed Kelly as a pioneer in painting, heralding his novel exploration of shape, line and colour in its purity. For Kelly, canvases were not simply a vehicle to carry paint, but on par with the artwork: he began trialling irregular angles for his canvases, sometimes combined and layered.
'Ellsworth Kelly at 100' at Glenstone Museum will be one of the largest retrospectives of Kelly's work in the 21st century and the first travelling exhibition organised by the museum, with many works on public view for the first time. The show will span almost 70 works drawn from Glenstone's collection and those of major international museums, including Centre Pompidou, Paris; Fondation Louis Vuitton, Paris; San Francisco Museum of Modern Art; Tate, London; and the Whitney, New York, as well as from the Ellsworth Kelly Studio. The Glenstone show will feature formative early paintings such as Painting for a White Wall, 1952, composed of joined monochromatic panels, Painting in Three Panels, 1956, a key example of Kelly's engagement with architecture, and the monumental floor piece, Yellow Curve (1990).
As Emily Wei Rales, director and co-founder of Glenstone, said, 'Ellsworth Kelly's vision for art can teach us so much about looking deeply at the world and translating what we see into its immediate visual components. As a lover of nature, Ellsworth's quiet and practised eye created paintings, sculptures, photographs, drawings, and collages that are as rewarding and challenging on the 50th encounter as they are on the first.'
In spring 2024, a modified version of the exhibition will travel to the Frank Gehry-designed Fondation Louis Vuitton in Paris, where Kelly concocted some of his most radical ideas as a young artist, to be displayed in a presentation unique to the Frank Gehry-designed museum. In autumn 2024, the presentation will open at the Fire Station in Doha, Qatar, marking the first presentation of the artist's work in the region.
'Ellsworth Kelly at 100', until 17 March 2024, Glenstone Museum, Potomac, Maryland. glenstone.org/art
Harriet Lloyd-Smith is the Arts Editor of Wallpaper*, responsible for the art pages across digital and print, including profiles, exhibition reviews, and contemporary art collaborations. She started at Wallpaper* in 2017 and has written for leading contemporary art publications, auction houses and arts charities, and lectured on review writing and art journalism. When she's not writing about art, she's making her own.