How American legend Ellsworth Kelly mastered colour and shape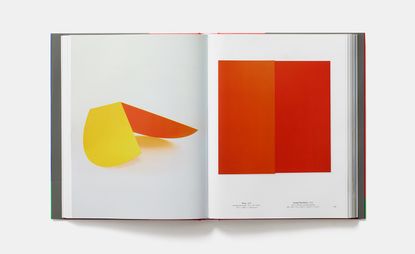 (Image credit: Phaidon)
A new monograph chronicles the pioneering American painter, printmaker and sculptor Ellsworth Kelly, from the war-torn 1940s to the final work before his death in 2015, and every colour-clad note in between.

Curated by art historian and Kelly specialist Tricia Paik, and shaped in close collaboration with the late artist, Ellsworth Kelly trace his transformation into one of the most illustrious artists of the last century. With scholarly interludes from key historians, curators and writers including Richard Shiff and Fary Garrels, the book is a comprehensive celebration of all that distinguishes Kelly's work from his peers.

The second son of three, Kelly was born in Newburgh, approximately 60 miles north of New York City. His father was an insurance-company executive, and his mother a former schoolteacher. The family eventually relocated to the town of Oradell, New Jersey, where Kelly became interested in birdwatching. 'I believe my early interest in nature taught me how to "see",' explains the artist in the monograph's introduction, recalling the first time he saw a Redstart, 'a small black bird with a few very bright red marks'.
In 1943, Kelly was drafted for US military service. Along with fellow artists and designers, he served in The Ghost Army, a top-secret unit formed to dupe the Axis forces with tools of deception including inflatable tanks, trucks, and fake radio transmissions during World War II. These years of subterfuge became a crucial source of creative inspiration; he found fascination in the space between the viewer and the painting, a void in which to absorb and intoxicate the onlooker with warped conceptions of space.

In 1948, he migrated to Paris and began to hone his signature hard-edge, channeling the surrounding architecture. Kelly brushed shoulders with fellow Americans including John Cage, Merce Cunningham and Alexander Calder, sparking a fresh zest for experimentation, colour field painting and abstraction. But in 1953 he was evicted from his Paris studio with only a single painting sale under his belt.

After retreating to New York, Kelly's struggles persisted as he continued to try and crack the art market. By this point, his work was an aesthetic anomaly of the period – audiences at the time found it difficult to digest the European qualities and block-coloured punch of his work.
It was a media review of an Ad Reinhardt show that urged him to persevere, eventually landing his first New York exhibition in 1956 at Betty Parsons. 'People didn't really come to the show much. I felt embarrassed, I had to apologise for using bright colours!' he recalled. Kelly's art became increasingly audacious as the 1960s dawned. He settled into his groove and began to defy the conventional canvas format, trialing curved, layered and irregularly angled shapes; he wanted the canvases to be on par with its surface, not just a silent carrier.

Kelly is portrayed in the book not only as a vibrant powerhouse of American abstraction, but also as a premature minimalist, a singularity resistant to rejection, and a chromatic king who allowed colour to bring joy to the masses and roam unrestrained.
INFORMATION
Ellsworth Kelly, £75, published by Phaidon