Ellen Gallagher at Centro Botín: a haunting, futuristic submersion in deep-sea life
'A Law… A Blueprint… A Scale', Ellen Gallagher's first exhibition in Spain, is submerged in ocean life and anchored in myth, mystery and tragedy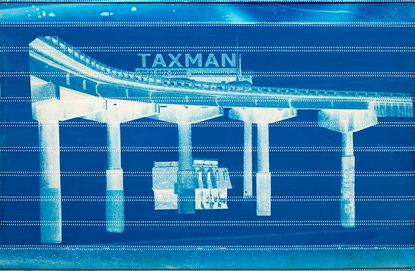 (Image credit: © Edgar Cleijne and Ellen Gallagher. Courtesy the artists)
The Centro Botín in Santander, on Spain's north coast, is a particularly apt setting for American artist Ellen Gallagher's first exhibition in the country, titled 'A Law… A Blueprint… A Scale'. The Renzo Piano-designed museum, which somewhat resembles a massive grey whale, literally hovers over the Bay of Santander, part of the Cantabrian Sea that feeds out into the Atlantic Ocean, that powerful body of water filled with fathoms of history, mystery, tragedy, and transformation, and which has been a force within Gallagher's work for over two decades. The mid-career survey is 'a focused dialogue between Ellen's work, the sea and the Centro Botín', says Bárbara Rodríquez Muñoz, the museum's director of exhibitions and the collection. It includes a selection of works on paper, paintings, and three film installations made with experimental filmmaker and long-time collaborator, Edgar Cleijne.
The exhibition begins outside the museum, about 2m from the bay, where the two-screen film installation Osedax (2010) is presented inside a large black box, the sides of which are formed by thick panels of black rubber with carved geometric shapes. The film pairs images such as a capsised 19th-century ship, a whale corpse descending to the seabed, or a paper-like bird flying through an imaginary collaged seascape, next to a series of watercolour and ink drawings of cellular, microbial, and organic images painted in watery blobs and gashes of pinks, reds, blues and blacks. The blending of imagery inside this closed, dark space feels kinetic, as does the whirring of the projector. 'Metamorphosis. We all change into what we become. The land, the sea, and the sky. Meeting, forming, taking, receiving. The sea going on, and on,' notes writer Philip Hoare in an essay for the exhibition catalogue.
Osedax takes its name and its inspiration from 'whalefall', a term that describes the phenomenon of a dead whale sinking to the bottom of the sea. Osedax are jelly-like worms that feed off the corpse. They were discovered when, by chance, marine biologists encountered a dead whale on the ocean floor off the shore of Monterrey, California, and witnessed thousands of these little creatures feeding on the whale's body. This transformative process allows osedax and other organisms to nourish themselves, the sea and other marine life, the body of the whale consumed as the circle of life, death and regeneration take their course. As Hoare notes in his essay, 'Celluloid was once made of whale gelatine.'
Inside the museum, Gallagher takes this connection a step further, presenting a whale skull (skull fragment of a cetacean, Ziphiidae – Gray, 1850) from the Santander Maritime Museum. Set regally on top of a mirrored pedestal, the skull appears as much a relic from the past as a contemporary aquatic specimen, like the ones in her paintings and drawings.
The exhibition's title, 'A Law…A Blueprint…A Scale', comes from a poem by Sun Ra, the visionary American composer, musician and poet, whose epic anthem, Nuclear War (1982), blares from the dynamic film installation, Better Dimension (2010), which brings together space, history, abstraction and trance
In this same room hang three of Gallagher's groundbreaking 'Black Paintings', a series of monochrome works made with a mix of enamel, rubber and paper on canvas begun in 1998. Gallagher challenges the viewer to 'see' within the layers of these powerful works that question assumptions about Black history, modern art, and the environment, among other things. Residual or ancestral traumas, the ghosts and remnants of stories, remain inside – at once emerging and receding as we stare into the slick, black surfaces.
Across the exhibition, indeed in much of Gallagher's work, water is a key presence. It's a force, a symbol, a mystery, a territory. In series such as Watery Ecstatic and Morphia, a selection of which are presented in the exhibition, the imagery seems at times to shapeshift or appear like a mirage on the surface, emerging and receding depending on the light or our state of mind. Vertebrae, jellyfish, wizened faces, small objects, eyes, or pods are painted or drawn like traces of a larger map or message, often connected through tentacles, swirls of watery lines, or patterns. Like a skilled storyteller, Gallagher magically pulls us into her universe so deeply the experience feels at times visceral and textural, the images and layers moving about the surface.
The haunting film installation, Highway Gothic (2019), anchors this exhibition in the way that it jolts us more directly into the present realities of ecological devastation. Compared to Gallagher's previous work, the film is more 'activist' without being explicitly so, digging deep into the ecological, cultural and social impacts of Highway 10, a long interstate road that runs along the American South, critically in this case, through New Orleans. Set in a darkened space, the multi-part film installation, which was tailored specifically for the museum, includes the two-screen film projection, light-box style cyanotype prints, and several long-hanging banners that resemble film strips and indigo-tie-dyed fabrics. Pounding in and out of the installation is the grinding, wailing song, Sick Child, by the Finnish experimental band Circle. Its edgy, repetitive sound perfectly heightens the dystopian experience.
Gallagher's practice is at once historical and futuristic. Time seems to morph in on itself – her work is not timeless in that sense, but of another time as yet unknown. Fact and fiction, metamorphosis and transformation, memories and traumas are submerged, only to pierce the surface again. She navigates through powerful narratives with force and beauty. 'A Law… A Blueprint… A Scale' provides an important opportunity to experience her work, but further adds to her prescient voice as a leading artist of our times.
INFORMATION
'A Law… A Blueprint… A Scale', by Ellen Gallagher with Edgar Cleijine runs until 11 September 2022, centrobotin.org (opens in new tab); hauserwirth.com (opens in new tab)
Blaire Dessent is a freelance writer, editor and copywriter specialising in contemporary design, craft, art and travel. She works as the managing editor for TL magazine, a biannual, French/English art and design publication. In 2020 she was an editor and contributor to Imaginings by Kiki van Eijk, published by nai010. She is also the co-owner of The Alameda Shop, a creative lifestyle shop in Mallorca that works with contemporary artists and makers.