'In the Black Fantastic': a beautiful yet deeply unsettling spotlight on Black culture
'In the Black Fantastic', a new group show at London's Hayward Gallery, curated by Wallpaper* contributing editor Ekow Eshun, is an eclectic examination of Black past, present, and speculative futures that shakes up Western accounts of history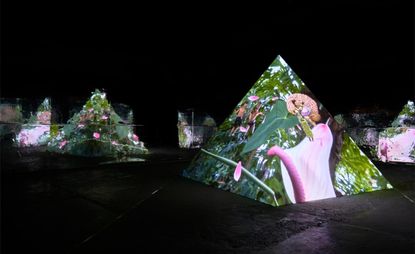 (Image credit: Courtesy of the artist and Goodman Gallery, South Africa)
Wallpaper* Newsletter
Receive our daily digest of inspiration, escapism and design stories from around the world direct to your inbox
Thank you for signing up to Wallpaper. You will receive a verification email shortly.
There was a problem. Please refresh the page and try again.
A post shared by writer and curator Ekow Eshun on Instagram reads 'There Are Black People In The Future' in a bold white font against an image of outer space in its all-encompassing blackness. It's an open invitation to a series of events and happenings Eshun is curating at London's Southbank Centre until September 2022, titled 'In the Black Fantastic'.
At the centre of the summertime spectacle is an exhibition at Hayward Gallery, opening in conjunction with the release of his new book of the same title. From a 'Soundsuit', created by artist Nick Cave in response to the public killing of George Floyd by the US police to a stop-motion animation film by Kara Walker based on acts of racial violence, the show is an eclectic amalgamation of beautiful yet deeply unsettling works. Though at first glance the aforementioned digital proclamation of Black futurity appears to be solely future-facing, when examined in conjunction with the works included in the exhibition, it is inextricably bound to the archive
Historically, the Western archive has acted as a site of presence and absence, particularly in regards to Black culture which has been obscured, and in certain cases erased from it. 'In the Black Fantastic' takes up space in this arena, showcasing artists whose works draw from various Black pasts, presents and speculative futures, fashioning alternative realities while probing at the construct of whiteness.
On the eve of his book release, I had the opportunity to discuss the upcoming exhibition with Eshun. He spoke fervidly about the themes and ideas that underpinned the show, describing the exhibited works as attempts to 'summon into being new propositions and possibilities of Black self-hood, space occupation and imagination'. Here lies the power of the Fantastic.
In an extract from Adriano Elia's essay 'Old Slavery Seen Through Modern Eyes', included in Eshun's book, Elia constructs fantasy as a sphere that does not remove us from reality but instead allows us to excavate and uncover it. In this realm, we can deconstruct centuries of socially assigned personhood and construct meaning from what remains. This understanding of fantasy echoes through many of the selected works in the exhibition, which Eshun describes as emerging from that endpoint. 'Most of these works begin on an awareness of the ideal of Blackness itself as a social fiction rather than a scientifical, biological reality, but they also take up for Blackness as a lived reality', he says.'The works aim to position Black life as a set of possibilities rather than an interrogation into a lived condition predicated on some of the historical structures that have been applied to definitions of Blackness in the past.'
Included in the exhibition is a selection of films created for art spaces rather than commercial release, which Eshun says eschews 'demands in terms of meeting an audience'. 'One of the capacities of film is its ability to expand the possibilities and spectacular strangeness of Black existence by taking us into other realms. In a way, artists often give themselves more of a licence to explore their personal areas of interest.' The films span a range of ideas, pulling from conventional histories, folklore, myth, spiritual traditions, pageantry and the legacies of Afrofuturism, to create a new sphere, boldly labelled by Eshun as 'The Black Fantastic'. In addition to these films are paintings, sculptures and installations by Chris Ofili, Sedrick Chisom, Ellen Gallagher, Hew Locke, Rashaad Newsome, Tabita Rezaire, Cauleen Smith and Lina Iris Viktor that all fall under Eshun's conception of 'The Black Fantastic'.
There is a placidity to Western accounts of history, as it pertains to Blackness, largely because our global system actively chooses to leave non-Western narratives unexamined. These works, if approached with a certain openness, may trigger internal investigations into how Western megalomania in the form of global homogenisation keeps us from ancient discoveries, counter-histories and futures proposed by cultures from the 'global south'. They could push us to acknowledge that by conforming to Western narratives we are actively complicit in what can only be described as an attrition of the archive.
INFORMATION
'In the Black Fantastic' is at Hayward Gallery until 18 September 2022, and will then be displayed at Kunsthal Rotterdam, Netherlands, from November 2022 to March 2023
Elisha Tawe is an audiovisual artist, co-founder of the creative duo gray417c, and Black Culture Editor at Trippin Magazine. He is currently based in London
Receive our daily digest of inspiration, escapism and design stories from around the world direct to your inbox
Elisha Tawe is a writer, audiovisual artist and one-half of the creative duo GRAY417C. He is based in London.