At home with Hew Locke
Our 'At home with' interview series explores what creatives are making, what's making them tick, and the moments that made them. This time, we step over the threshold with Guyanese-British artist Hew Locke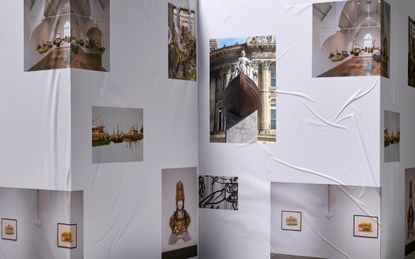 (Image credit: Neil Godwin at Future Studios for Wallpaper)
Hew Locke's work – anchored in past events but jarringly contemporary – asks us not to romanticise our history but to question it. The London-based artist, who spent his childhood in Guyana, received widespread acclaim for his epic commission at Tate Britain's Duveen Galleries. The Procession comprises a wave of nearly 100 masked, costumed, life-size figures in a carnival-like collision of colour and theatre. Lurking beneath this sheen of celebration are more complex themes that Locke has long explored: racism, war, migration, capitalism, nationhood, empire, colonialism, and its lingering residue.
For the Birmingham 2022 Festival, the artist installed a reimagined sculpture of Queen Victoria in which the monarch herself is shipped off across the empire. Commissioned by Ikon gallery, Foreign Exchange is Locke's first temporary public sculpture and will be in situ until 15 August 2022. In September, the artist will take on the hallowed façade of New York's Met Museum with a series of sculptures that respond to the museum's collection.
Locke's work is static but appears to move; is silent yet cacophonous; attractive yet deeply uncomfortable. This is human history and culture in its rich, complex and 'messy' variety – and not necessarily how we know it.
Wallpaper*: Where are you as we speak?
Hew Locke: Sitting in the lime green front room of my attic flat (a difficult place to live for someone who is tall). I can see old photos of parents and my in-law's 1950s wedding photos. Over the radiator hangs a mirror and frame my brother made, using a pre-historic Guyanese design called Timehri. There are two frames full of Guyanese stamps. My mother's impressionist painting of the Oxford Hotel in Georgetown hangs on a wall behind me. From the open window, I can hear young children and teenagers heading for Brockwell Park.
W*: What's the last thing you read, watched, or listened to?
HL: For the last couple of months, I've been working my way through every episode of the 1980s-90s sitcom Desmond's, which is being repeated on Netflix. Set in a barber shop in Peckham, it follows a Guyanese-British family and stars groundbreaking Guyanese actor Norman Beaton. It's well written and uniquely captures a slice of the 1990s, often focusing on the tensions between the original Windrush generation, their UK-born offspring, and racism. But mainly, it's just really funny! It cheers me up every day.
W*: What's the most important object you own?
HL: My UK passport. This document affords me access to the world, in a way many people cannot.
W*: What was the first piece of art you remember seeing, and how did it make you feel?
HL: A stoneware model house made by my mother, Leila. She loved drawing and painting and modelling the beautiful wooden Guyanese houses – a love I have inherited. I was fascinated to see how a very detailed, everyday object – a house – could be simplified and abstracted, but still remain a house. I had never seen clay being used for anything other than plates and cups before.
W*: You spent a portion of your formative years in Guyana. How did this period inform your work?
This is seen in my use of heightened colour, and my subject matter; for example, my boat and house sculptures and paintings draw directly on my childhood in Guyana. When I arrived aged six, the country was preparing for Independence – and I was fascinated by all the new symbols of nationhood that were being created. This included the currency, stamps, flag, coat of arms, and national anthem – all from scratch. I was literally entering a new world, and this interest in national symbols has stayed with me.
W*: Your work is rooted in global histories and geographies, specifically those associated with colonial and post-colonial power. Why is exploring, and reclaiming past events so important to our present?
HL: The past informs the present. Every time we forget, we are reminded of this fact. The history and war in Ukraine is just one example of this. It is interesting to see the last few Caribbean countries thinking about removing the Queen as Head of State – there has been a shift recently in the way certain countries see themselves. And statues are tumbling there too. It's important that we don't romanticise the past – for example, the history of the British Empire.
Unfortunately, British society seems to have become divided into different and opposing camps on whether we should talk about these histories at all. I would say, there is no reason for a person to be afraid of having their ideas challenged. History is complex and messy, and that is OK.
W*: Your Tate Britain Commission, The Procession, has been widely acclaimed and struck a chord with many. What did it mean to you to have such a response?
HL: This piece was very difficult to produce, starting in lockdown, and the response means a lot to me. I have had very emotional people coming up to me to talk about the piece and it is a very emotional piece for me too. For this piece, in particular, I was trying to make something that would reward a visitor who had got up, and paid money to travel to the Tate, to see something. I wanted to make sure their effort was worth it. And I also wanted to make something that would reward repeated viewings – to encourage people to come back again and again. As an artist, you never know how work will be received, so it was humbling to get this type of feedback. Not just the press, but strangers I bump into on the street. I always wanted to take on the Duveen Commission, but it was very scary. I could have failed badly – that is the risk you take.
W*: Can you tell us about Foreign Exchange, your recent public installation in Birmingham's city centre?
HL: My interest in statues of Victoria again goes back to my youth in Guyana, where a statue of her stood outside the High Court. During its lifetime, it has been dynamited by independence protestors in the 1950s, pulled down and thrown in the back of the Botanical Gardens in the 1970s, re-installed in front of the Law Courts in the 1990s, and had red paint thrown over it three years ago. In the UK, by contrast, there has been a series of romantic imaginings of Victoria's life, such as The Young Victoria, Mrs Brown, and Victoria and Abdul, to name just a few.
In Foreign Exchange, I show statues of Victoria being shipped off across the Empire – as copies were in reality; she symbolised the stability of the Empire. Though made by different, highly skilled artists, they all mainly look the same. Foreign Exchange is part of the Birmingham 2022 Festival, which is part of the Commonwealth Games. I wanted to make something that not only resonated with local people, of all backgrounds but also with the athletes and visitors who have or had statues of Victoria in their own cities. As always, even when talking about contested subjects, I like to make the work as beautiful as I can.
Each statue wears a helmet, like Britannia does, and a medal relating to some of the many colonial wars that expanded the Empire and kept it together. Though not well known in the UK, in the countries where they happened, they are very important and I think we should know more about them. The medals mark the capture of Trinidad and Tobago, the battle of Seringapatam, the Ashanti Wars, the Benin medal, and the Second Afghan War.
W*: How would you define the role of public art now?
HL: It can be anything.
W*: What piece of advice would you give to the next generation?
HL: It's a bad idea to give advice to the next generation! But, the only thing I can think of is 'enjoy what you do'. A good piece of advice I was given by a tutor was 'always leave the studio excited about coming back the next day'. I.e. leaving work just at the stage of exciting un-finishedness.
W*: What's next?
HL: At the moment, I am looking forward to the opening of 'In the Black Fantastic' at the Hayward Gallery. I have a whole room of photographs and a series of equestrian sculptures called The Ambassadors, which were started before lockdown, put in storage, and have only just been completed. I'm also making some boats for a solo show at PPOW gallery in New York, and am working on a public art commission to be erected on the façade of the Metropolitan Museum there too, both in the autumn. The Metropolitan piece is a series of sculptures made in the likeness of trophies, entitled 'Gilt' and drawing on their collection. I'm not allowed to say anything more about it at the moment, I'm afraid! You will just have to wait.
INFORMATION
The Procession, on view at Tate Britain until 22 January 2022. tate.org.uk
Foreign Exchange, until 15 August 2022. ikon-gallery.org