Poster politics: David Tartakover plasters the walls of the Tel Aviv Museum of Art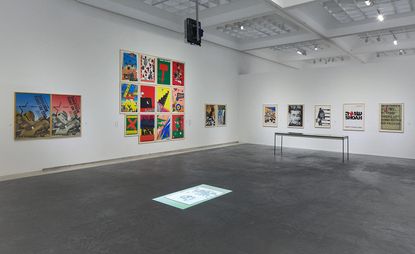 (Image credit: Tel Aviv Museum of Art)
Early one recent Monday morning, while much of the Tel Aviv Museum of Art was just waking up, one expansive room had already come to life. The walls, filled with the work of Israeli artist David Tartakover, were inspiring conversations that ranged from political to personal – just as the artist intended.

Tartakover is perhaps the most famous artist in Israel, something he accomplished by tackling the country's political history head-on in his minimalist poster design. Born in 1944, before Israel established statehood in 1948, Tartakover has borne witness to his country's cultural and political evolution and been an active participant – he won the coveted Israel Prize in 2002.

Simply titled 'David Tartakover: The Exhibition', the Tel Aviv retrospective draws from nearly every area of Tartakover's design work. The artist and curator Irith Hadar did not work chronologically, and six open-plan sections allow Tartakover's straightforward image and text combinations to reveal the weight of Israel's history.

Collages of newspaper clippings and photographs illustrating the 1967 war sit alongside Tartakover's well-known 'anniversary' posters, which chronicle the Israeli occupation of the West Bank in the years that have followed. Photographs from the series I'm here – which insert and identify the 'artist' himself in news imagery – are found around the corner from a wall dubbed 'Tartakover and Friends', a salon-style hang of cultural imagery that inspires him.

'Tartakover leaves things open for thinking and for rethinking,' Hadar says. 'It's not that he says "this is the way". He takes phrases we know, images we know and he combines them in a way that you have to think about them.'

The exhibition runs until 24 October, and is sure to keep visitors thinking and rethinking long after they leave the museum.
INFORMATION
'David Tartakover: The Exhibition' is on view until 24 October. For more information, visit the Tel Aviv Museum of Art's website (opens in new tab)
Photography courtesy the artist and Tel Aviv Museum of Art
ADDRESS
Tel Aviv Museum of Art
27 Shaul Hamelech Boulevard
61332012, Tel Aviv