Ray of light: Daniel Buren discusses his illuminating show at Lisson Gallery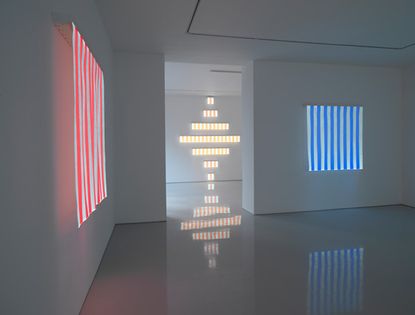 (Image credit: The artist and Lisson Gallery)
Throughout the course of his 45-year career, French artist Daniel Buren has bagged many of the finest locations in the world for his site specific artworks - Versailles, New York's Guggenheim and the likes Tokyo's Odaiba Bay, to name just a few. His latest venue is London's Lisson Gallery, where over the course of a week, he transformed the space with works that display his trademark colourful, geometric shapes and signature stripes.

We spoke to Buren to find out about the idea behind the show, the materials he uses, and his unconventional approach to clutter-management...

Wallpaper*: Talk us through the piece called 'Perimeter'.
Daniel Buren: It's so simple. It follows the perimeter of the room, which is an unusual L-shape, with varying heights. It's a complicated space, but more exciting to work with than a white cube. Playing with the idea of the perimeter – something I have never done before – I built the piece in-situ, as always. The same idea could be applied outdoors and I have done some huge outdoor pergolas similar to this. Or it could be developed into a cloister-like structure. The colours are simple – I could only get four colours of Plexiglas. I arrange them in alphabetical order depending on the language of the country I'm in, so for this piece, they are arranged as they are spelt in English. I always apply this system as soon as I start using more than two colours.

Tell us about the materials involved.
I always use local materials. These are the starting point. In Europe, you can get everything, but often I'm working in countries where unique materials are rare. Two weeks ago, I did a show in Senegal and the only material I liked was an anti-mosquito mesh that cost almost nothing. For the fabric pieces, I used a new material created three years ago by a very old French textile company. It's a hair-like optical fibre, on to which I have shone LEDs. I was the first to use it, and it is still being developed for use in industry and architecture.

What happens to the site-specific pieces after the show?
Unless the gallery can store them, they are destroyed. I won't keep them. I haven't had a studio for 43 years. If anyone buys the fabric pieces, they must be displayed exactly as I display them; in the middle of the wall, both horizontally and vertically. These are my rules. Either follow them or don't buy the work.

Much of your work is outdoors and lends itself well to collaborations. Do you encourage these?
Oh yes, I have done many collaborations with architects. Recently, I worked with Jean Nouvel on a huge public project in Italy in the town of Colle di Val d'Elsa, which took eight years to complete.

How is your project for the new Tottenham Court Road station progressing?
I can't say too much, but I started my part three and a half years ago, and it won't be ready until 2016. But I'm happy that it is a permanent piece, and that it will be seen by a lot of people.
ADDRESS
52-54 Bell Street
London NW1 5DA
Emma O'Kelly is a contributing editor at Wallpaper*. She joined the magazine on issue 4 as news editor and since since then has worked in full and part time roles across many editorial departments. She is a freelance journalist based in London and works for a range of titles from Condé Nast Traveller to The Telegraph. She is currently working on a book about Scandinavian sauna culture and is renovating a mid century house in the Italian Lakes.